KNIME Essentials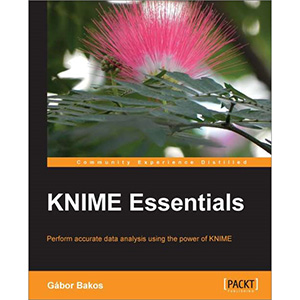 KNIME is an open source data analytics, reporting, and integration platform, which allows you to analyze a small or large amount of data without having to reach out to programming languages like R.
"KNIME Essentials" teaches you all you need to know to start processing your first data sets using KNIME. It covers topics like installation, data processing, and data visualization including the KNIME reporting features. Data processing forms a fundamental part of KNIME, and KNIME Essentials ensures that you are fully comfortable with this aspect of KNIME before showing you how to visualize this data and generate reports.
"KNIME Essentials" guides you through the process of the installation of KNIME through to the generation of reports based on data. The main parts between these two phases are the data processing and the visualization. The KNIME variants of data analysis concepts are introduced, and after the configuration and installation description comes the data processing which has many options to convert or extend it. Visualization makes it easier to get an overview for parts of the data, while reporting offers a way to summarize them in a nice way.
What you will learn from this book
Install and configure KNIME
Create KNIME workflows and report templates
Import data to KNIME
Transform data with KNIME workflows
Enhance your data with data from other sources
Visualize data using KNIME
Generate reports from your data
Approach
"KNIME Essentials" is a practical guide aimed at getting the results you want, as quickly as possible.
Who this book is written for
"Knime Essentials" is written for data analysts looking to quickly get up to speed using the market leader in data processing tools, KNIME. No knowledge of KNIME is required, but we will assume that you have some background in data processing.
Book Details
Paperback: 148 pages
Publisher: Packt Publishing (October 2013)
Language: English
ISBN-10: 1849699216
ISBN-13: 978-1849699211
Download [4.3 MiB]