Word 2013 Bible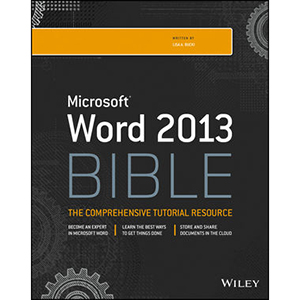 Top-to-bottom coverage of the top-selling Microsoft Office application
If you want to use Microsoft Word to create more than just simple documents, start with this ultimate Word guide. Packed with the in-depth content that is the hallmark of all Wiley Bibles, this book covers it all. You'll first find out what's new in Word 2013 on the features level – formatting, styles, tables, and more – before you dive into the big stuff that can help you become more efficient. From document design to creating master documents to applying security to collaborating in the Cloud, you'll learn not just how to do tasks, but the best ways to do them, and why.
Details everything you need to know to get the most out of Word 2013
Walks you through new or refreshed basics, such as formatting, styles, charts, and tables
Shows you how to use data sources, create envelopes and labels, and make forms
Takes your Word skills up a notch with coverage of keyboard customization, security, collaborating on the Cloud, comparing documents, and much more
Start creating documents at a new level and wow your colleagues, with Word 2013 Bible.
Table of Contents
Part I: Welcome to a New Word
Chapter 1. Taking Your First Steps with Word
Chapter 2. Diving Into Document Creation
Chapter 3. Working Smarter, Not Harder, in Word
Chapter 4. Zapping Word's Top Annoyances
Part II: Working with Document Style and Content
Chapter 5. Font/Character Formatting
Chapter 6. Paragraph Formatting
Chapter 7. Using Styles to Create a Great Looking Document
Chapter 8. Cutting, Copying, and Pasting Using the Clipboard
Chapter 9. Find, Replace, and Go To
PART III: Improving Document Content and Consistency
Chapter 10. Reviewing a Document with Language Tools
Chapter 11. Cleaning Up with AutoCorrect and AutoFormat
Chapter 12. Getting Smart with Text. Building Blocks, Quick Parts, Actions (Tags), and More
Part IV: Illustrating Your Story with Graphics
Chapter 13. Building Tables, Charts, and SmartArt to Show Data and Process
Chapter 14. Adding Pictures and WordArt to Highlight Information
Chapter 15. Adding Drop Caps, Text Boxes, Shapes, Symbols, and Equations
Part V: Improving Document Setup and Look
Chapter 16. Setting Up the Document with Sections, Headers/Footers, and Columns
Chapter 17. Changing Other Page Features
Chapter 18. Saving Time with Templates, Themes, and Master Documents
Part VI: Enhancing Documents with Reference Features
Chapter 19. Enhancing Navigation with Bookmarks, Hyperlinks, and Cross References
Chapter 20. Identifying the Contents and Terms in Your Document. TOCs, Captions, and Indexing
Chapter 21. Documenting Your Sources
Part VII: Making Documents Work for You
Chapter 22. Data Documents and Mail Merge
Chapter 23. Automating Document Content with Fields
Chapter 24. Creating Custom Forms
Part VIII: Publishing, Collaboration, and the Cloud
Chapter 25. Sharing and Publishing Documents
Chapter 26. Managing Document Security, Comments, and Tracked Changes
Chapter 27. Collaborating in the Cloud with SkyDrive
Chapter 28. Integration with Other Office Applications
Part IX: Power and Customization
Chapter 29. Keyboard Customization
Chapter 30. Customizing the Quick Access Toolbar and Ribbon
Chapter 31. Word Options and Settings
Chapter 32. Macros. Recording, Editing, and Using Them
Appendix. Command-Line Switches for Controlling Word Startup
Book Details
Paperback: 1056 pages
Publisher: Wiley; 4th Edition (April 2013)
Language: English
ISBN-10: 1118488121
ISBN-13: 978-1118488126
Download [73.2 MiB]