Corporate Bundle (eBook, Illustrator Templates, Icon Set, WP Theme)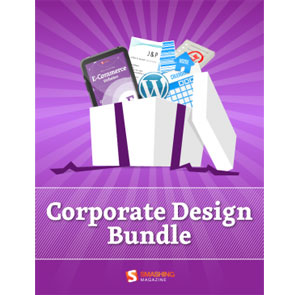 Now, that's quite a deal: get a professional eBook and templates for your corporate designs in one swoop! Our Corporate Bundle contains a Smashing eCommerce eBook, a Corporate Identity Pack (including a business card design, a portfolio layout and stationary), a Swiss Retro Icon Set and a Corporate WordPress Theme all in one swoop! If you were looking for professional tools to get your business set up, this is the way to go — build your identity and start building a brand to be proud of. You'll see how strong the influence of a positive business image is on your company reputation.
Smashing eCommerce eBook (256 pages)
Designing and developing eCommerce websites is a puzzle with thousands of pieces.
In this book you'll be studying the universal principles for successful eCommerce websites, which include improving your check-out process and making your product displays more attractive. In reality, optimizing your conversion rates takes little effort. Find out how to resolve small usability issues to immense effect. Improve your conversion rates with A/B and multivariate testing? Use them to figure out how customers respond to minimal changes in design, content structure and check-out convenience. Customers decide whether to stay on a page in just a few (milli)seconds, so you better make them count!
Corporate Identity Pack (Illustrator CS5 Files)
The set contains pre-formatted Adobe Illustrator templates for every personalized stationary and practical corporate letterhead. A consistent appearance of a firm communicates a strong message: We know what we are dealing with.
The set is easily customizable with your own initials, name and corporate colors. Also, the set includes an A4 landscape brochure and an A5 flyer that you can use to present your portfolio. These files have a similar style to the stationary. With this set, you have all you need for a modern, consistent corporate identity. If you are about to launch your freelance career or plan to open your first corporate office you should keep that in mind. The templates allow you to alter all elements according to your gusto. So, get your logo on those templates and get it out there.
The package contains the following Adobe Illustrator (CS5) files:
A4 Letterhead
US Letter Letterhead
3.5×2″ Business card
2×3.5″ Business card
85×55 mm Business card
55×85 mm Business card
C5 Envelope
C6/C5 Envelope
9.5×4.125″ Envelope
Swiss Retro Icon Set (39 icons in 32×32px – 512×512px)
This high-quality icon set was designed with the intention of styling your eCommerce site in class Swiss design style. All PNG icons come in 5 sizes — better yet, they are adaptive and change shape or form in order to adjust to different displays. The "Rating" icons in particular change from a 5-star rating system at 128×128px and above, to a 3-star rating system at 64×64, and finally a vote-up / vote-down system at 32×32. The icons use the Chalet Comprime (Cologne Seventy) font by House Industries foundry. Treat your site to some retro style.
Almost all icons included in sizes 32×32, 64×64, 128×128, 256×256, and 512×512px.
Down arrow (alternative "download")
Right arrow
Buy
Calendar
Download
Email
Facebook plaintext
Facebook logotext
Facebook singular icon
Favorites (not favorited)
Favorites (favorited)
Go
Home
Info
My account
My basket
New
Popular
Price
Question / Help
Rating (no stars)
Rating (1 star)
Rating (2 stars)
Rating (3 stars)
Rating (4 stars)
Rating (5 stars)
Rating – no votes (32×32 only)
Rating – voted up (32×32 only)
Rating – voted down (32×32 only)
RSS Full
RSS singular
Sale
Testimonials full
Testimonials singular
Twitter Plaintext
Twitter logo text
Twitter singular
Corporate WordPress Theme
The bundle also includes a WordPress theme that provides the main functionality for online portfolios of designers, photographers and corporate identities. It could be a great skeleton for your corporate projects. The design includes very simple yet clean elements, a carefully selected combination of typefaces and appealing button shapes. A 34 page PDF documentation explains how to use the theme, configure the site and install plugins. The PSD files of the design are included to allow editing according to your needs. Live demo is available as well.
Book Details
Paperback: 256 pages
Publisher: Smashing Media GmbH (2010)
Language: English
Download [109.2 MiB]