jMonkeyEngine 3.0: Beginner's Guide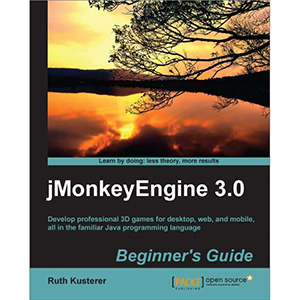 jMonkeyEngine 3.0 is a powerful set of free Java libraries that allows you to unlock your imagination, create 3D games and stunning graphics. Using jMonkeyEngine's library of time-tested methods, this book will allow you to unlock its potential and make the creation of beautiful interactive 3D environments a breeze.
"jMonkeyEngine 3.0 Beginner's Guide" teaches aspiring game developers how to build modern 3D games with Java. This primer on 3D programming is packed with best practices, tips and tricks and loads of example code. Progressing from elementary concepts to advanced effects, budding game developers will have their first game up and running by the end of this book.
From basic concepts and project creation to building a complex 3D Game, you will learn to layout 3D scenes, make them interactive and add various multi-media effects.
You will find answers to common questions including best practices and approaches, how game characters can act and interact, how to simulate solid walls and physical forces, how to take it online to play over a network and much more.
From Zero to Hero, start your journey to make your game idea a reality.
What you will learn from this book

Create your own worlds and populate them with mobile characters, cities, physical objects, natural landscapes or beautiful under-water scenes.
Add cool sounds and awesome visual effects to draw the player into your interactive world.
Design textured materials and use light and shadow to bring out your game's unique atmosphere.
Make players shoot, select items, walk or look round by registering and handling user input.
Keep track of the game state and determine how each character makes decisions and responds to attacks.
Make the most of the integrated physics engine and create fast-paced car races, bowling, sports, pool and billiards games.
Understand client-server messaging and create multi-player online games that communicate over a network.
Approach
With plenty of practical examples, screenshots and example code, create a complete game step by step. Learn by doing. Less theory, more results!
Who this book is for
If you have an inventive mind, are experienced in Java, enjoy looking through the smoke and mirrors of VFX and the world of game mechanics then this book is for you.
Book Details
Paperback: 352 pages
Publisher: Packt Publishing (June 2013)
Language: English
ISBN-10: 1849516464
ISBN-13: 978-1849516464
Download [11.3 MiB]