HTML5 Game Development with GameMaker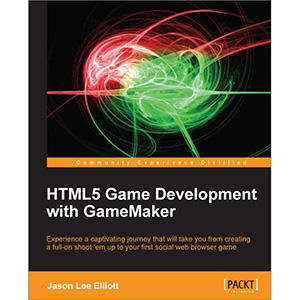 The introduction of HTML5 has revolutionized the web browser as a legitimate gaming platform with unlimited potential. Making games for the browser has never been simpler, especially with GameMaker Studio. Developers have full control over asset management, built-in systems for physics, particles and path finding. In addition, it offers a rich scripting language and extensions for developers now enabling everyone to create games and monetize them quickly and easily.
HTML5 Game Development with GameMaker will show you how to make and release browser based games using practical examples. This book utilizes GameMaker's powerful scripting language allowing you to create your first game in no time. With this guide you will develop a thorough skill set and a coherent understanding of the tools to develop games of increasing complexity, gradually enhancing your coding abilities and taking them to a whole new level.
The GameMaker Studio environment allows you to jump right into building browser based games quickly and releasing them online. The chapters focus on core practical elements, such as, artificial intelligence and creating challenging boss battles. This book guides you on how to use advanced features easily and effectively, these include, data structures and demonstrating how to create rigid body physics with simple explanations and visual examples. By the end of this book you will have an in-depth knowledge of developing and publishing online social browser based games with GameMaker.
What you will learn from this book
Create great web based and social networking games, including games for Facebook, no experience is needed
Implement Pathfinding and Artificial Intelligence
Make games in various genres using the GameMaker Language
Explore and appreciate the most popular mobile games genre, Physics based games
Add unlockable levels, equipment and inventories
Create amazing particle effects for any game
Publish your games online, play with friends on Facebook
Approach
The book is a friendly but explosive reference for all skill levels, with several action packed projects. You will develop the ability to build games from scratch with a comprehensive practical tutorial guide. This book is assured to boost your skill set to another level.
Who this book is for
This book is for anyone with a passion to create fun and action packed web browser games using GameMaker Studio. This intuitive practical guide appeals to both beginners and advanced users wanting to create and release online games to share with the world, using the powerful GameMaker tool.
Book Details
Paperback: 364 pages
Publisher: Packt Publishing (April 2013)
Language: English
ISBN-10: 1849694109
ISBN-13: 978-1849694100
Download [14.8 MiB]