iPod and iTunes For Dummies, 10th Edition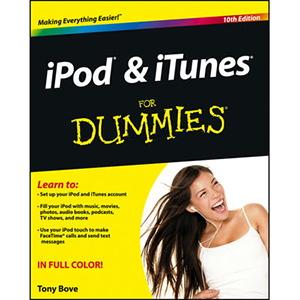 Get going with your iPod & iTunes and this perennial bestseller – now in full-color!
iPod & iTunes For Dummies is the ultimate beginner's guide for getting started with your iPod and Apple's iTunes service. Now in its tenth edition, this helpful guide has been completely overhauled and boasts a full-color format for the first time ever. Veteran For Dummies author Tony Bove introduces you to the different iPod models, explains how to power up your iPod, and shows you how to set up iTunes. You'll learn to personalize your device, add music tracks from a CD to your iTunes library, set up a playlist, sync your content and apps with iCloud, and much more.
Offers straightforward coverage of using your iPod as the ultimate digital music player and shows you how to choose the iPod model that's right for you, get started with your iPod, set up iTunes, master the touch interface, and shop at the iTunes Store
Teaches you how to add music tracks from a CD to your iTunes library, play content in iTunes, set up playlists, share content from your iTunes library, and manage photos and videos
Walks you through sending and receiving e-mail, downloading and using apps, fine-tuning sound, updating and troubleshooting, and maintaining battery life
Provides updates for iOS 6 and the latest iPod models and older favorites, including the iPod touch, iPod nano, iPod shuffle, and iPod classic
Get in tune with the latest and the greatest music, videos, and more! iPod & iTunes For Dummies, 10th Edition puts you on track to enjoying iTunes and your iPod today.
From the Back Cover
Learn to:
Set up your iPod and iTunes account
Fill your iPod with music, movies, photos, audio books, podcasts, TV shows, and more
Use your iPod touch to make FaceTime® calls and send text messages
From music and movies to apps and more, iPod takes entertainment to a whole new level!
Whether you have the new iPod nano, the tiny iPod shuffle, the colorfully awesome iPod touch, or the good ol' iPod classic, this handy guide shows you how to set up iTunes® on a Mac or PC, shop the iTunes Store, build playlists, watch videos, share photos, surf the web, post to Facebook and Twitter, get help from Siri — and even listen to music!
Get started — set up iTunes, navigate the controls, customize your settings, and get connected
Build your library — buy songs, albums, movies, apps, e-books, TV shows, ringtones, podcasts, and more from the iTunes Store or bring your own content into iTunes
Online all the time — browse the web on your iPod touch, check e-mail, use GPS maps, play YouTube videos, and take photos and videos
Your social life — manage your calendar, stay close with friends and family with Messages and FaceTime, and get on Facebook and Twitter
Safety first — sync your stuff to iCloud, recover from frozen apps, reset your device, and even restore factory settings
Open the book and find:
How to search, sort, and play your iTunes content
Tips on creating playlists and mixes with Genius
Instructions for listening to FM radio on your iPod nano
How to communicate with Siri™, your voice activated virtual assistant
Advice on backing up your iTunes library with iCloud™
How to secure your iPod with a passcode
Secrets to longer battery life
Steps for finding and using apps on your iPod touch®
Book Details
Paperback: 384 pages
Publisher: For Dummies; 10th Edition (February 2013)
Language: English
ISBN-10: 1118508645
ISBN-13: 978-1118508640
Download [61.6 MiB]