iPad 2: The Missing Manual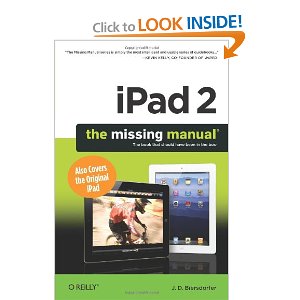 The iPad is an amazing media device, once you really know how to use it. In this entertaining book, New York Times tech columnist and iPad expert Jude Biersdorfer shows you how to get the most out of this sleek tablet to surf the Web, send and receive email, watch movies and TV shows, read eBooks, listen to music, play games, and even do a little iWork. It's the book that should have been in the box.
The important stuff you need to know
Learn undocumented tips and tricks. Get the lowdown on cool iPad secrets
Build and play your media library. Fill up your iPad with music, movies, TV shows, eBooks, photos, music videos, audiobooks, and podcasts
Get online. Connect through Wi-Fi and Wi-Fi+3G—on both GSM and CDMA networks
Discover state-of-the-art e-reading. Buy and read books and magazines in full color
Consolidate your email accounts. Read email from your personal and work accounts
Shop iTunes and the App Store. Navigate Apple's media emporiums, and learn how to get free music, video, books, and apps
About the Author
J.D. Biersdorfer is a best-selling, veteran Missing Manual author. J.D. wrote Best iPad Apps and iPad: The Missing Manual (First Edition), and co-wrote iPod: The Missing Manual and iPhoto: The Missing Manual, and is the author of Netbooks: The Missing Manual, Google: The Missing Manual, and The iPod Shuffle Fan Book. She has authored a weekly technology column for the The New York Times since 1998.
Book Details
Paperback: 336 pages
Publisher: O'Reilly Media; 2nd Edition (April 2011)
Language: English
ISBN-10: 1449301738
ISBN-13: 978-1449301736
Download [66.7 MiB]