Macs For Dummies, 11th Edition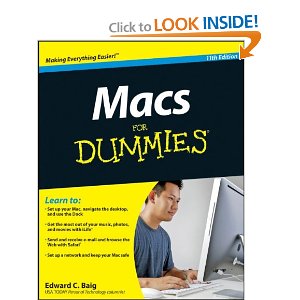 The comprehensive how-to for Mac computer mastery
New to Macs? Making the PC-to-Mac switch? Adding a Mac to your existing network? Macs For Dummies makes it easy. Now in its eleventh edition, the bestselling Macintosh computer book of all time is back, updated and revised to cover Apple's latest generation of Macintosh hardware and software. From the Snow Leopard operating system to iWork and iLife, this step-by-step guide is perfect for first-time Mac users or more experienced users upgrading to the newest Mac models.
Shows you how to set up your e-mail, browse the Internet with Safari, and explore blogs and social networking sites
Helps you understand folders, icons, windows, and master the Dock
Guides you through navigating iLife applications and backing up your computer with Time Machine
Explains buying songs online with iTunes and burning music to CDs
Details how to run a Windows operating system on your Mac
Written by USA Today's Personal Technology columnist Ed Baig in the straightforward but fun language that defines the For Dummies series, there is no better way to get started with your new computer!
From the Back Cover
Welcome to the wonderfulworld of Mac! Here's the funand easy way® to get going
Got a new Mac? Switching from a PC? This handy guide will show you all the mac-nificent things you can do with your Mac, from navigating the desktop to backing up your stuff with Time Machine, sharing photos with friends, shooting an iMovie®, and more. You'll even learn how to play nicely in a Windows environment. Get started right here.
Picking your Apple — compare the different desktop and laptop models to choose your perfect match
Getting to your Apple's core — find your way around the Mac interface; understand icons, folders, and windows; and master the mouse controls
Here, Kitty — make friends with Mac OS X (no matter which feline it is), fiddle with Dashboard widgets, and tame the clutter with Exposé and Spaces
Get connected — go online, start Web-browsing with Safari®,use e-mail and iChat®, and link up to social networking sites
Stay in sync — join MobileMe and take advantage of me.come-mail, iDisk storage, Gallery, and contacts and calendar syncing
Get an iLife — manage media with iTunes®, organize andimprove digital photos with iPhoto®, make iMovies, andrelease your inner rock star with GarageBand®
Boot Camp — still need Windows? No problem. Install and run Windows on your Mac alongside your Mac OS
Open the book and find:
How to set up user accountsand configure your Mac
Tips for staying safe online
Secrets of iLife® and otherprograms that come withyour Mac
Ways to connect to blogs and social networking sites
Steps for networking your Mac
How to switch between Windows® and the Mac OS® X
Troubleshooting advice for cranky Macs
Ten indispensible Mac Web sites
Learn to:
Set up your Mac, navigate the desktop, and use the Dock
Get the most out of your music, photos, and movies with iLife®
Send and receive e-mail and browse the Web with Safari®
Set up a network and keep your Mac safe
Book Details
Paperback: 456 pages
Publisher: For Dummies; 11th Edition (March, 2011)
Language: English
ISBN-10: 0470878681
ISBN-13: 978-0470878682
Download [52.0 MiB]