Introducing Autodesk 3ds Max 2011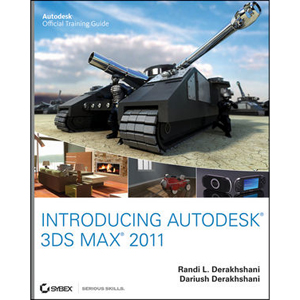 An Autodesk Official Training Guide to 3ds Max 2011
3ds Max is a popular 3D animation-and-effects software used in movies, visual effects, games, cartoons, short films, commercials, and other animation. However, it also presents a number of challenges to newcomers. This introduction to the latest version breaks down the complexities of learning 3D software and walks you through the basics of modeling, texturing, animating, and using visual effects. Real-world examples from talented beginning 3ds max users motivate you to learn the software and helpful tutorials offer realistic, professional challenges for you to unravel. In addition, each chapter is richly illustrated with workflows to make learning 3ds max 2011 much easier and fn.
Introduces you to the basics of modeling, texturing, animating, and incorporating visual effects using the latest version of 3ds Max software
Features excellent tutorials, helpful examples, detailed workflows, and a companion Web site to enhance your learning experience
Explains a variety of methods for solving real-world challenges and breaks down why certain methods are used
Makes the transition of coming from other 3D software applications as smooth as possible
Introducing 3ds Max 2011 takes a typically difficult subject and breaks into easily digestible pieces so you can confidently begin working with this 3D animation software today.
From the Back Cover
Move your skills into the next dimension with 3ds Max
By the time you finish Introducing Autodesk 3ds Max 2011, you'll have created a dresser with six drawers, animated a knife being thrown at a target, built a 3D model of a child's toy, and much more—all while learning Autodesk's popular animation software. From modeling and lighting to animation and dynamics, this Autodesk Official Training Guide is not only the perfect introduction to 3ds Max, but also to the fundamentals of Computer Graphics (CG).
The book takes you all the way through the 3ds Max pipeline, from preproduction through postproduction, and provides pages of clear-cut explanations, practical tutorials, and hands-on projects to build your skills. A special color insert showcases impressive and inspiring examples from talented 3ds Max beginners.
Build the CG knowledge you need for game, film, and TV production
Explore modeling, from simple and complex polygon mechanical models to organic character modeling
Understand the role of hierarchies in animation
Create walk cycles, use Inverse Kinematics, and animate a biped
Explore lighting, rendering, and raytracing concepts
Master particle systems and use soft body and rigid body dynamics
Book Details
Paperback: 672 pages
Publisher: Sybex (October 2010)
Language: English
ISBN-10: 047091615X
ISBN-13: 978-0470916155
Download [62.9 MiB]