IBM Cognos Insight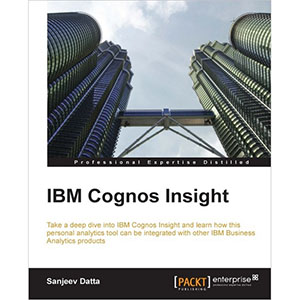 Based on in-memory technology with write-back capabilities for What-if scenario planning, Cognos Insight gives spreadsheets the rich visual appeal for better analysis and planning. Leverage the collaborative features to seamlessly publish the personal analysis workspaces to an enterprise-wide Cognos Business Intelligence solution.
"IBM Cognos Insight" is a fast paced, practical hands-on guide with step-by-step instructions to build Cognos Insight workspaces. Take advantage of the in-memory TM1 cubes as the underlying engine to answer business questions by analyzing data in the form of reports & dashboards. Share these insights with other Cognos services or mobile devices to empower users with real-time data.
This book introduces Cognos Insight as a personal yet powerful analytics application. It covers how decision making is applied in all domains of the business world and how data can be analyzed effectively in the form of fast in-memory cubes. Leverage the write-back functionality to build budgets, plans and forecasts.
"IBM Cognos Insight" will empower new and existing users to maximize the features of the application and analyze data by building visually rich reports and dashboards in minutes.
What you will learn from this book
Import Data by dragging and dropping spreadsheets or using the Import Wizard. Map the data into TM1 cubes, dimensions and measures.
Building New Cubes, Dimensions and Measures.
Build simple Calculations and Variances with Exceptional Highlights.
Using TM1 Rules to build complex calculations.
Learn how to Drill down and Drill up on Crosstabs and Charts.
Refresh data using silent or guided refreshes. Share and distribute Workspaces to larger workgroups.
Write back data into cells and spread data across cell sections.
How to design workspaces and add new widgets.
Approach
This book takes a practical tutorial approach to teaching users the features of Cognos Insight.
Who this book is written for
New and existing users of Cognos Insight who are looking to gain more knowledge about the product and Business Analytics in general.
Book Details
Paperback: 142 pages
Publisher: Packt Publishing (November 2012)
Language: English
ISBN-10: 184968846X
ISBN-13: 978-1849688468
Download [12.5 MiB]