Underwater: Options When Your Mortgage Is Upside Down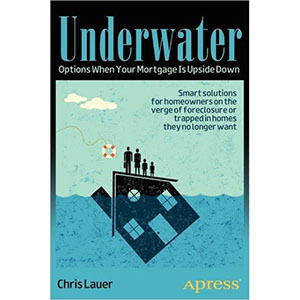 Just about every month, housing values in the U.S. fall. That, in turn, increases the number of people who owe more on their houses than they are worth—either trapping them in homes they may no longer want or putting them in danger of financial catastrophe if they lose a job or are otherwise unable to meet the mortgage. Underwater: Options When Your Mortgage Is Upside Down offers valuable advice to homeowners on ways they can unload a house they no longer want, save a home from foreclosure, or undergo foreclosure and start anew. The book offers smart advice from lawyers, bankers, real estate agents, personal finance experts, and homeowners who have seen the foreclosure process firsthand, as well as those who have been able to save their homes through loan modifications and other creative methods. Those faced with tough choices will find invaluable guidance to help them make well-informed decisions while managing the emotional fallout each brings.
Many of the eleven million people in the U.S. now facing the "underwater" dilemma wonder: Is staying put the only option? What if I can't pay the monthly mortgage bill? Can I save my home? Underwater: Options When Your Mortgage Is Upside Down outlines the options—when foreclosure is a good idea, how to best protect the equity you've built up, the financial repercussions of going into foreclosure, strategies for renegotiating a loan, taking advantage of government programs designed to keep you happily housed, and more. Veteran financial journalist Chris Lauer provides the facts, ideas, and advice that can help any underwater homeowner—especially those facing foreclosure—make smart decisions for a better future.
What you'll learn
How to determine whether your home mortgage is "underwater."
How negative equity can cause long-term damage to personal budgets and the nation's economy.
What homeowners can do to get out from under an "upside-down" mortgage.
How to negotiate with your lender to refinance your loan, agree to a "short sale," or stop the foreclosure process.
How to protect your equity and limit your financial exposure under various options.
How other homeowners have been able to turn their mortgages around and rise up from dire circumstances.
How the choice to face foreclosure may be the right financial decision.
How to tap into federal programs designed to aid beleaguered homeowners.
How to navigate through the unfamiliar language of real estate jargon and make sense of the alphabet soup of real estate acronyms.
Who this book is for
The audience for Underwater: Options When Your Mortgage Is Upside Down consists of the millions of homeowners whose houses are either "upside-down" with their mortgages (owing more on their house than it is worth) and those who fear they may be close to that point. According to the real estate services firm CoreLogic, statistics at the end of the third quarter of 2011 show that about 10.7 million (22.1 percent) of all residential borrowers are "underwater" on their mortgage obligations. With one expert projecting a further decline of 5% in real estate values in 2012, that number will grow. These people, and those who may enter their ranks, are the audience for this book.
Table of Contents
Part I: The Real Estate Market and the Underwater Mortgage
Chapter 1. The Real Estate Crash
Chapter 2. How Bad Is the Underwater Problem?
Part II: Expert Advice on Your Underwater Mortgage
Chapter 3. Advice from an Underwater Homeowner
Chapter 4. Advice from a Real Estate Attorney
Chapter 5. Advice from a Real Estate Agent
Chapter 6. Advice from a Mortgage Broker
Chapter 7. Advice from a Real Estate Agent
Chapter 8. Advice from a Real Estate Agent
Chapter 9. Advice from a Mortgage Broker
Chapter 10. Advice from a Real Estate Expert
Part III: The Real Estate Market: An Overview from the Experts
Chapter 11. Advice from a Real Estate Economist
Chapter 12. Advice from an Economist
Chapter 13. Advice from CoreLogic Chief Economist Mark Fleming
Part IV: Housing: Fannie, Freddie, Legal Issues, and Government Programs
Chapter 14. What You Should Know About Fannie Mae and Freddie Mac
Chapter 15. Lenders Settle with Homeowners for $25 Billion for Abuses
Chapter 16. Twelve Valuable Government Programs
Part V: Appendices
Appendix A. Glossary of Terms
Appendix B. Additional Resources
Book Details
Paperback: 284 pages
Publisher: Apress (December 2012)
Language: English
ISBN-10: 1430244704
ISBN-13: 978-1430244707
Download [4.8 MiB]