Getting Started with Greenplum for Big Data Analytics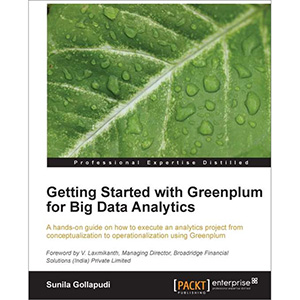 Organizations are leveraging the use of data and analytics to gain a competitive advantage over their opposition. Therefore, organizations are quickly becoming more and more data driven. With the advent of Big Data, existing Data Warehousing and Business Intelligence solutions are becoming obsolete, and a requisite for new agile platforms consisting of all the aspects of Big Data has become inevitable. From loading/integrating data to presenting analytical visualizations and reports, the new Big Data platforms like Greenplum do it all. It is now the mindset of the user that requires a tuning to put the solutions to work.
"Getting Started with Greenplum for Big Data Analytics" is a practical, hands-on guide to learning and implementing Big Data Analytics using the Greenplum Integrated Analytics Platform. From processing structured and unstructured data to presenting the results/insights to key business stakeholders, this book explains it all.
"Getting Started with Greenplum for Big Data Analytics" discusses the key characteristics of Big Data and its impact on current Data Warehousing platforms. It will take you through the standard Data Science project lifecycle and will lay down the key requirements for an integrated analytics platform. It then explores the various software and appliance components of Greenplum and discusses the relevance of each component at every level in the Data Science lifecycle.
You will also learn Big Data architectural patterns and recap some key advanced analytics techniques in detail. The book will also take a look at programming with R and integration with Greenplum for implementing analytics. Additionally, you will explore MADlib and advanced SQL techniques in Greenplum for analytics. This book also elaborates on the physical architecture aspects of Greenplum with guidance on handling high-availability, back-up, and recovery.
What you will learn from this book
Load data from multiple data sources using the built-in ELT / ETL
Learn Parallel Processing / MPP / MapReduce techniques
Program with R and MADlib
Understand back-up and recovery implementation in Greenplum
Optimize data processing and querying using optimal distribution and partitioning strategies
Exchange data between the Greenplum Database and Hadoop
Handle high-availability requirements on Greenplum
Integrate ETL, reporting, and visualization tools
Approach
Standard tutorial-based approach
Who this book is for
"Getting Started with Greenplum for Big Data" Analytics is great for data scientists and data analysts with a basic knowledge of Data Warehousing and Business Intelligence platforms who are new to Big Data and who are looking to get a good grounding in how to use the Greenplum Platform. It's assumed that you will have some experience with database design and programming as well as be familiar with analytics tools like R and Weka.
Book Details
Paperback: 172 pages
Publisher: Packt Publishing (October 2013)
Language: English
ISBN-10: 1782177043
ISBN-13: 978-1782177043
Download [10.4 MiB]