eBay Business All-in-One For Dummies, 2nd Edition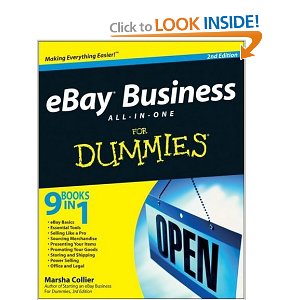 Want to become an eBay entrepreneur? Nobody knows more about starting an eBay business than Marsha Collier, and she's put it all in 1-2-3 order for you in eBay Business All-in-One For Dummies, 2nd Edition.This all-in-one guide includes nine handy minibooks that cover:
eBay Basics
Essential Tools
Selling Like a Pro
Sourcing Merchandise
Presenting Your Items
Promoting Your Goods
Storing and Shipping
Power Selling
Office and Legal
eBay PowerSeller Marsha Collier shows you how to:
Set up your business, find and manage inventory, and run your business like a pro
Equip yourself with the tools that count—eBay's search engine, online sources of information, the PayPal system, and eBay's management tools
Source your merchandise and learn valuable strategies for managing and maximizing sales
Set up the optimal eBay photo studio and develop and market your eBay Web site
Learn the ins and outs of online retailing and what it takes to buy and sell online safely and easily
Find deals on the computer equipment you need
Promote, market, and show off your goods, all the while keeping your business legal
Before you know it, you too can be a PowerSeller!  Get started today with eBay Business All-in-One For Dummies, 2nd Edition.
From the Back Cover
A fully updated eBay business primer from Marsha Collier, renowned eBay business expert!Whether you're thinking about starting an eBay business or are already up and running, this step-by-step guide will lead you down the smart path to making a regular income on eBay. With solid tips from the bestselling eBay expert, this reference helps you get your eBay business off the ground and manage the basics of listing items, completing transactions, and keeping your buyers happy.
Learn the nuts and bolts — discover how you can set up your business, find and manage inventory, and run your business like a pro
Equip yourself with the tools that count — make the most of eBay's search engine, online sources of information, the PayPal system, and eBay's management tools
Start selling like a whiz — learn valuable strategies for managing and maximizing sales
Source your merchandise effortlessly — learn the ins and outs of online retailing and what it takes to buy and sell online with ease
Get the word out — find out how to set up the optimal eBay photo studio and develop and market your eBay Web site
Be the power seller you were born to be — from opening your eBay store to the nitty-gritty office set up, get your business up and running
Open the book and find:
How to navigate through eBay's buyer and seller tools
Tips on effectively using your My eBay page
Insider advice on creating listings that win bids
Sources for the merchandise that sells profitably on eBay
How top sellers use photos and HTML to improve their sales
Ideas for promoting your business both on eBay and off
Worry-free shipping strategies
Painless guidance on keeping your business legal
Book Details
Paperback: 864 pages
Publisher: For Dummies; 2nd Edition (February, 2009)
Language: English
ISBN-10: 0470385367
ISBN-13: 978-0470385364
Download [26.4 MiB]