High Performance Operations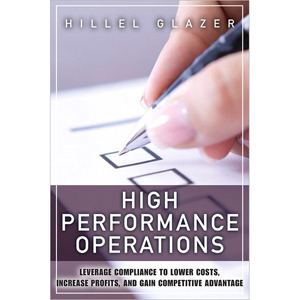 Companies in highly regulated industries face unique challenges in optimizing business performance and profitability while maintaining strong governance and regulatory adherence. In this start-to-finish guidebook, leading business performance consultant Hillel Glazer shows how to achieve these goals through the successful integration of lean and systems thinking. Written for operations managers, process professionals, and lean systems managers, Glazer shows how to systematically incorporate compliance into planning for overall performance, value, and profitability, rather than viewing compliance as an end in itself. High Performance Operations will help operations professionals and managers:
Clarify the competing interests that challenge them, and implement pre-conditions for success.
Learn how a systems-thinking approach can promote achieve operational excellence.
Uncover the "secret sauce" that enables great organizations to scale their successes, eliminate single points of failure, and get more of "what went right".
Define what value and operational excellence look like in their organizations, and all the costs of achieving them.
Create solutions, establish proof-of-performance, justify investments, measure performance, and implement continuous improvement.

Translate solutions into working policies, patterns, processes, and procedures.
From the Back Cover
"Hillel Glazer has deftly synthesized all that he's learned from flying, building planes, engineering complex systems, and years of consulting to help organizations to be lean and focused on performance. I believe Hillel is a clear-eyed radical who loves what he wants to reform. You can sense his exasperation at all that is wasteful and wrong in organizations, even as he patiently helps us to find a profitable way through it."
–Eileen C. Forrester, author of CMMI for Services, Carnegie Mellon University
"Hillel Glazer sets about busting the myth that regulated industries and high performance operations are mutually exclusive. As a tax payer, I personally hope this book is widely read and its ideas rapidly adopted!"
–David J. Anderson, author of Kanban: Successful Evolutionary Change for your Technology Business
"This is one book I've definitely been waiting for! Hillel Glazer shares the results of his reflections on dozens of improvement journeys, identifying what separates the operationally excellent organization from the wannabes. This book can help make your CMMI or ISO-based improvement program result in superior performance and 'compliance for free!'"
–Michael D. Konrad, PhD, Chief Architect, Capability Maturity Model Integration, Carnegie Mellon University
"Hillel Glazer's easy-to-read book emphasizes systems thinking in improving performance–critical key to success in our increasingly complex and challenging business environment."
–Paul D. Nielsen, Director and CEO, Software Engineering Institute, Carnegie Mellon University
"By applying key systems engineering principles to process development, High Performance Operations takes a pragmatic systems approach to doing business in today's compliance-heavy environment. Hillel Glazer provides a refreshingly different take on the path to business excellence."
–Richard Turner, Distinguished Service Professor, Stevens Institute of Technology, and coauthor of Balancing Agility and Discipline and CMMI Survival Guide
Most regulated businesses struggle to pursue both compliance and operational excellence. But these goals aren't–or shouldn't be–separate. This book shows how to harmonize them in a high performance operation, where compliance becomes a by-product of excellence, not a costly tradeoff against it.
Hillel Glazer helps you gain a far deeper understanding of the complicated and complex adaptive system you're currently running–and then reassemble its components and services for optimal performance. Drawing on powerful insights from systems engineering, he shows how to strengthen what's working, stop doing what doesn't work, and create a systemic, lean, optimized management solution for your entire operation.
Glazer's Process Solutioneering® methodology has delivered exceptional value to enterprises in industries ranging from manufacturing to healthcare, finance to transportation, aerospace to e-commerce, and IT to public safety services. If you want the same results, High Performance Operations shows you how to get them.
Custom-tailor unified systems that achieve compliance and excellence.
Create elegant, robust, long-term solutions to address both competing interests
Refocus on purposes and outcomes, not just practices
Get beyond "creating artifacts" to deeper, more lasting success
Successfully synthesize your operation's three primary components
Master and optimize business cycles, work effort cycles, and process cycles
Book Details
Hardcover: 272 pages
Publisher: FT Press (September 2011)
Language: English
ISBN-10: 0132779889
ISBN-13: 978-0132779883
Download [2.7 MiB]