PMP Certification All-in-One For Dummies, 2nd Edition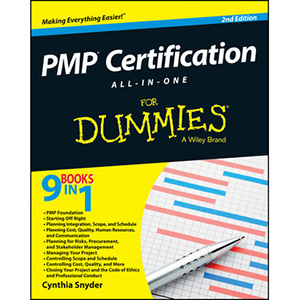 This completely updated guide prepares you for taking the PMP certification exam
As the most popular project management certification available, the PMP certification is very difficult to obtain and demands stringent requirements. Thankfully, this All-in-One guide is packed with valuable information that has been completely updated to offer you the most accurate and helpful information for taking the exam. The book features up-to-date content that reflects the changes in the Fifth Edition of the Project Management Body of Knowledge (PMBOK) and helps you navigate the various requirements to become PMP certified. Plus, new review questions written by the author serve to enhance your learning process.
Contains all things related to becoming PMP certified, from signing up to take the exam to becoming savvy with the essential areas of PMBOK
Helps you make sense of each domain of the PMBOK: communications management, cost management, human resources management, integration management, procurement management, quality management, risk management, scope management, and time management
Offers complete coverage of the challenging PMP certification requirements as well as a large selection of practice questions
Features an accompanying website that contains the Dummies Test Engine that boasts hundreds of sample questions
This comprehensive guide will put you on your way to becoming PMP certified.
Table of Contents
Book I: PMP Foundation
Chapter 1. The PMP Exam
Chapter 2. Foundations of Project Management
Chapter 3. Project Life Cycles, Organizational Structures, and Organizational Process Assets
Chapter 4. It's All about the Process
Book II: Starting Off Right
Chapter 1. OMG! It's a Project!
Chapter 2. Chartering Your Project
Chapter 3. Identifying Project Stakeholders
Book III: Planning Integration, Scope, and Schedule
Chapter 1. Constructing the Project Management Plan
Chapter 2. Defi ning Project Scope
Chapter 3. Creating Your Schedule
Book IV: Planning Cost, Quality, Human Resources, and Communication
Chapter 1. Estimating the Price Tag
Chapter 2. Planning for Quality
Chapter 3. Identifying Your Team Members
Chapter 4. 90 Percent of Your Job Is Communication
Book V: Planning for Risks, Procurement, and Stakeholder Management
Chapter 1. Identifying What Could Go Wrong
Chapter 2. Getting Help — Procuring Project Scope
Chapter 3. Who Are All These People? Planning Stakeholder Management
Book VI: Managing Your Project
Chapter 1. Managing the Work and Assuring Quality
Chapter 2. Managing the People Side of Your Project
Chapter 3. Getting the Word Out to Stakeholders and Contractors
Book VII: Controlling Scope and Schedule
Chapter 1. Monitoring, Controlling, and Managing Change
Chapter 2. Controlling Project Scope
Chapter 3. Controlling Your Schedule
Book VIII: Controlling Cost, Quality, and More
Chapter 1. Controlling Cost and Using Earned Value
Chapter 2. Controlling Quality
Chapter 3. Controlling Communications and Stakeholders
Chapter 4. Managing Your Risks and Procurements
Book IX: Closing Your Project and the Code of Ethics and Professional Conduct
Chapter 1. Closing Your Contracts and Your Project
Chapter 2. The PMI Code of Ethics and Professional Conduct
Appendix A. What's on the Website
Appendix B. Practice Test
Appendix C. Lab Work
Appendix D. Exam Objective Cross Walk
Appendix E. Glossary
Book Details
Paperback: 912 pages
Publisher: For Dummies; 2nd Edition (September 2013)
Language: English
ISBN-10: 1118540123
ISBN-13: 978-1118540121
Download [31.3 MiB]