Hedge Fund Analysis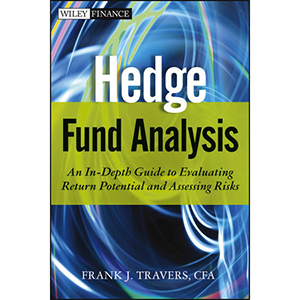 A detailed, step-by-step book covering the entire hedge fund evaluation process
Investing in hedge funds is different from investing in other asset classes. There is much less publicly available information about hedge funds performance than there is about mutual funds or individual stocks. Consequently, investing in this class requires more sophisticated investment knowledge, greater due diligence, and, in many cases, a better-developed ability to evaluate investment managers.
Hedge Fund Analysis provides a broad framework of how to approach this endeavor, from initial screening to analytical techniques, interviewing skills, and legal and contract negotiations. Along the way, it demonstrates a variety of mechanisms for monitoring and tracking hedge funds and the underlying hedge fund portfolios—explaining each stage of the process in minute detail and providing specific examples which fully explain the opportunities and challenges you'll face each step of the way.
Provides a detailed look at how to source hedge funds, screen through them, and rank their strengths and weaknesses
Lays out a thorough process for evaluating funds, from initial interviews to performance analysis to onsite meetings
Reveals what questions to ask by strategy in order to understand the underlying risk factors associated with each
Highlights non-investment analysis, including operational due diligence and risk management, as integral elements in the process
Written by a financial professional with over twenty years of experience conducting investment manager due diligence, this book will put you in a position to make more informed decisions when investing in hedge funds.
Table of Contents
Part I: Background
Chapter 1. Hedge Fund History
Chapter 2. Hedge Fund Asset Class
Part II: Hedge Fund Due Diligence
Chapter 3. Due Diligence Process
Chapter 4. Initial Data Collection
Chapter 5. Initial Interview
Chapter 6. Quantitative Analysis
Chapter 8. Onsite Interviews
Chapter 9. Operational Due Diligence
Chapter 10. Risk Due Diligence
Chapter 11. Reference and Background Checks
Chapter 12. Hedge Fund Scoring Model and Decision Making
Book Details
Hardcover: 392 pages
Publisher: Wiley (September 2012)
Language: English
ISBN-10: 1118175468
ISBN-13: 978-1118175460
Download [2.5 MiB]