Google SketchUp 8 For Dummies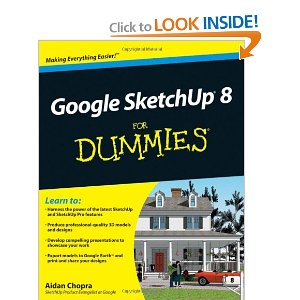 Go 3D with Google's exciting architectural design software for Mac and Windows
Whether you need to learn 3D modeling for business or you're just eager to see what you can create, Google SketchUp and Google SketchUp 8 For Dummies are for you. Available in both a free hobbyist version and a full-featured professional version, SketchUp explodes the myth that 3D modeling software must be complicated to learn and use. This book will take you step by step through downloading and using both versions on both Mac and Windows. There are even video walkthroughs on the companion Web site.
Google's exciting 3D modeling software offers hobbyists as well as architects, engineers, and industrial designers a less complicated tool for architectural rendering, urban planning, set design, game design, and other uses
This guide explains both the free and professional versions for both Windows and Mac
Covers the basic concepts of 3D modeling and how to build a 3D model, print or share your work online, export your drawing to another design package or Google Earth, and create a detailed set of plans
Companion Web site features video walkthroughs
Google SketchUp 8 For Dummies gets you up and running with 3D modeling quickly and easily.
From the Back Cover
You can quickly and easily model in 3D! Get going with SketchUp 8 so you can start creating today
Where do you want your imagination to take you? SketchUp will help you get there. This powerful software lets you easily create 3D models, and Chopra shows you how. In no time, you'll build 3D settings, add textures, create animated walkthroughs, export your models into Google Earth, and more. There's no limit to what you'll be able to do!
Get to know your components — create SketchUp components to simplify your life as you design 3D models
Keep your geometry organized — learn how to use the twomain tools to organize your model and work cleanly
Build a model from scratch — import a photo and build whatyou see by tracing with SketchUp's modeling tools
Whip up some style — discover how and where to apply styles, then add shadows for a more realistic look
Show off your models — from walking around a building tosetting up scenes with different camera views, find out howto best present your work
Open the book and find:
What you should and shouldn't expect SketchUp to do
All about establishing the modeling mindset
Steps for using components to build smarter models
How to model with photographs
Methods for working with styles and shadows
Techniques for geo-modeling for Google Earth
Tips on exporting images and animations
How to stay organized with layers and pages
Visit the companion Web site at www.dummies.com/go/sketchup8fd for a bonus chapter and videos demonstrating more of what you can do with Google SketchUp!
Learn to:
Harness the power of the latest SketchUp and SketchUp Pro features
Produce professional-quality 3D models and designs
Develop compelling presentations to showcase your work
Export models to Google Earth and print and share your designs
Book Details
Paperback: 496 pages
Publisher: For Dummies (December, 2010)
Language: English
ISBN-10: 0470916826
ISBN-13: 978-0470916827
Download [68.0 MiB]