Mastering Autodesk Revit Architecture 2014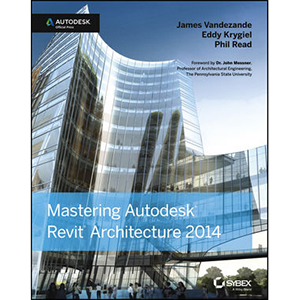 Learn Revit Architecture with expert instruction from this Autodesk Official Press guide
The new edition of this bestselling Revit book is the most useful and approachable Mastering Revit Architecture yet. Thoroughly revised and updated, this comprehensive guide to Autodesk's industry-leading building information modeling (BIM) software features in-depth explanations, real-world examples, and practical tutorials help you grasp crucial tools, techniques, and concepts so you can quickly start doing real work in Revit. You will learn core BIM concepts and best practices for everything from putting together impressive building designs to producing solid documentation, creating visualizations that impress clients, and more. Hands-on exercises with downloadable before-and-after files provide plenty of opportunities to practice the real-world scenarios and hone all the crucial Revit skills.
Explains the user interface, general concepts, best practices, and new features of Revit 2014
Teaches modeling, massing, and visualization with Revit
Helps users develop extended modeling skills for walls, stairs, floors, and more
Features detailed documentation and presentation techniques
Provides detailed instruction, step-by-step tutorials, and numerous examples
Includes downloadable starting and ending files and additional advanced content
Offers information to help readers prepare for Autodesk's certification exams
This detailed reference and tutorial is the perfect resource for becoming an expert with Autodesk's powerful BIM software.
Table of Contents
Part 1: Fundamentals
Chapter 1. Introduction. The Basics of BIM
Chapter 2. Principles. UI and Project Organization
Chapter 3. The Basics of the Toolbox
Part 2: Understanding the Workflow
Chapter 4. Configuring Templates and Standards
Chapter 5. Understanding Worksharing
Chapter 6. Working with Consultants
Chapter 7. Interoperability. Working Multiplatform
Part 3: Modeling and Massing for Design
Chapter 8. Advanced Modeling and Massing
Chapter 9. Conceptual Design and Design Analysis
Chapter 10. Working with Phasing, Groups, and Design Options
Chapter 11. Visualization
Part 4: Extended Modeling Techniques
Chapter 12. Walls and Curtain Walls
Chapter 13. Floors, Ceilings, and Roofs
Chapter 14. Family Editor
Chapter 15. Stairs and Railings
Part 5: Documentation
Chapter 16. Detailing Your Design
Chapter 17. Documenting Your Design
Chapter 18. Annotating Your Design
Part 6: Construction and Beyond
Chapter 19. The Construction Phase
Chapter 20. Presenting Your Design
Chapter 21. Point Clouds
Appendices
Appendix A. The Bottom Line
Appendix B. Tips, Tricks, and Troubleshooting
Appendix C. Autodesk Revit Architecture 2014 Certification
Book Details
Paperback: 1008 pages
Publisher: Sybex (June 2013)
Language: English
ISBN-10: 1118521307
ISBN-13: 978-1118521304
Download [142.3 MiB]