Getting the Most from Instagram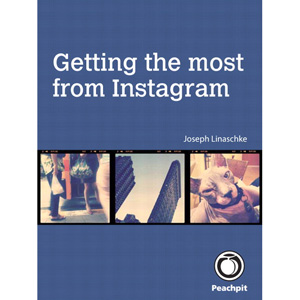 So, you've downloaded the free Instagram app for your iPhone, but how do you use it? What makes sharing your unique, faux-vintage photographs on Facebook so entertaining? Which camera and filter should you use? Getting the Most from Instagram will answer all those questions and more as you learn about the special combination of photography and community that this app creates for social networking.
This complete guide to Instagram was written to help you create better images to share, get the most from the included filters, find features you didn't even know were in the app, and see just how deep the Instagram rabbit hole goes!
Learn about the ever-growing online services surrounding Instagram, and gain access to a constantly updated webpage with more tips, an in-depth look at filter treatments, and the ever-growing list of third-party solutions! Let this book be your personal tour guide to show you how to get the most out Instagram and your iPhone camera.
Book Details
Paperback: 20 pages
Publisher: Peachpit Press (June 2011)
Language: English
ISBN-10: 0132875772
ISBN-13: 978-0132875776
Download [2.8 MiB]