ExtGWT Rich Internet Application Cookbook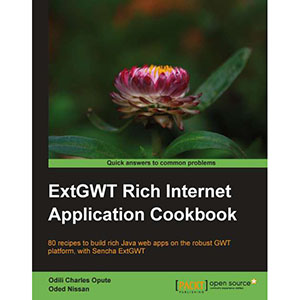 Get ready to build the next generation Gmail, Facebook, or Meebo, with HTML5 and Server Push, taking advantage of the power and versatility of Java with ExtGWT. Sencha Ext GWT takes GWT to the next level, giving you high-performance widgets, feature-rich templates and layouts, advanced charting, data loaders and stores, accessibility, and much more.
ExtGWT Rich Internet Application Cookbook will teach you to quickly build stunning functionality into your own apps with ExtGWT.
This is a catalog of practical solutions to get your ExtGWT web app up and running in no time, with tips for persistence and best practices. You begin by playing with panels, windows, and tabs, to learn the essentials. Next, you engage yourself with forms, buttons, toolbars and menus to build on further. Dealing with the UI and the trees will follow to help you make stunning user interfaces. Then you will be taught to work with Listview, Views, and Gridpanels, the more complex problems. The book will then deal with charts, visualization, and drag and drop to take you to the next level. Finally, you will wind up with serialization, persistence, and custom theming. Now, you are an expert!
What you will learn from this book
Use ExtGWT's very rich UI widgets
Create stunning UIs with several Layouts and Templates
Visualize data with beautiful and interactive Charts as well as third party visualization kits
Build and assemble Widgets that are bound to remote data
Create a custom theme or customize an existing one
Easily apply MVP, EventBus, Code Splitting, and other GWT best practices
Add Push functionality to your web apps with Comet
Start taking advantage of HTML5
Approach
This is a fast paced and concise tutorial guide for ExtGWT with lucid and ready-to-use recipes. The screenshots and the code examples really make the book very comprehensive and interesting.
Who this book is written for
This book is intended for the beginner/intermediate Java developer who wants to build really cool and powerful web apps using cutting edge Java technology and web standards. Knowledge of basic web technologies and a working GWT setup is needed. Basic knowledge of ExtGWT will be an advantage.
Book Details
Paperback: 366 pages
Publisher: Packt Publishing (September 2012)
Language: English
ISBN-10: 1849515182
ISBN-13: 978-1849515184
Download [9.2 MiB]