Creating Mobile Apps with jQuery Mobile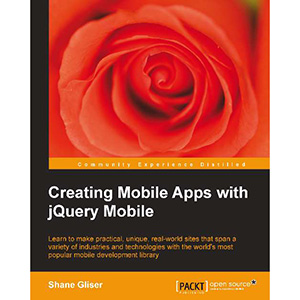 jQuery Mobile is a touch-optimized web framework (also known as a JavaScript library or a mobile framework) currently being developed by the jQuery project team. The development focuses on creating a framework compatible with a wide variety of smartphones and tablet computers made necessary by the growing but heterogeneous tablet and smartphone market. The jQuery Mobile framework is compatible with other mobile app frameworks and platforms such as PhoneGap, Worklight, and more.
Creating Mobile Apps with jQuery Mobile reflects the author's years of experience and exposes every hidden secret which will ease your mobile app development. With just a smattering of design and user experience thrown in, going through this book will allow you to confidently say, "yes, I can do that."
We'll start out with effective mobile prototyping and then move directly to the core of what every one of your mobile sites will need. Then, we'll move on to the fancy stuff.
After creating some basic business templates and a universal JavaScript, we will move into the more interesting side of mobile development but we always try to keep an eye on progressive enhancement. jQuery Mobile is all about reaching everyone. So is this book.
"Creating Mobile Apps with jQuery Mobile" will take your basic mobile knowledge and help you make versatile, unique sites quickly and easily.
What you will learn from this book
Learn the art of prototyping jQuery Mobile as both design and sales tactics
Get tips on making jQuery Mobile implementations look more unique
Integrate with Google's Analytics, Maps, and Feeds APIs
Leverage HTML5 video and audio including a jQuery Mobile player interface
Leverage client-side templating to render API results from Twitter, Reddit, Flickr, and more
Check and monitor the user's position with Geolocation
Auto validate your mobile forms with jQuery Validate on both page-by-page and multi-page views
Use jQuery Mobile to create a full responsive web design for photographers using Photoswipe
Approach
With ample coded examples and screenshots, the book consists of 10 different projects that will help you master jQuery Mobile.
Who this book is for
"Creating Mobile Apps with jQuery Mobile" assumes a base level knowledge of web development. If you've used jQuery Mobile before, you're gold. Otherwise, you can pick it up along the way.
Book Details
Paperback: 254 pages
Publisher: Packt Publishing (April 2013)
Language: English
ISBN-10: 178216006X
ISBN-13: 978-1782160069
Download [12.4 MiB]