Nikon D7000: From Snapshots to Great Shots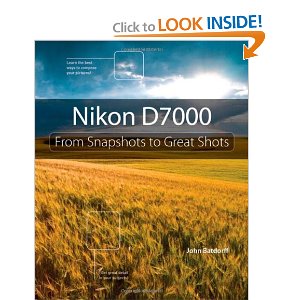 This book is for anyone upgrading from their Nikon D90 or current DSLR to the highly anticipated Nikon D7000. There's the manual, of course, as well as competing books, and while they all explain, often in 400+ pages, what the camera can do, none of them shows exactly how to use the camera to create great images!
This book has one goal: to teach D7000 owners how to make great shots using their new Nikon camera. Users learn how to use the D7000 to create the type of photos that inspired them to buy the camera in the first place. Everything in the book is in service of creating a great image.
Starting with the top ten things users needed to know about the camera, photographer John Batdorff carefully guides readers through the operating features. Owners get practical advice from a pro on which settings to use when, great shooting tips, and even end of chapter assignments.
About the Author
John Batdorff is an award-winning landscape and travel photographer who splits his time between Chicago and Montana. He is a coauthor of Composition: From Snapshots to Great Shots, and his work has been featured in the National Museum of Wildlife Art in Jackson Hole. He loves the outdoors and traveling, and sharing his images with others. See his work and read his popular photography blog at www.batdorffphotography.com.
Book Details
Paperback: 288 pages
Publisher: Peachpit Press (January, 2011)
Language: English
ISBN-10: 0321766547
ISBN-13: 978-0321766540
Download [27.9 MiB]