Essential SharePoint 2013, 3rd Edition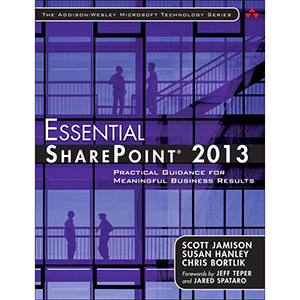 The Only Book That's 100% Focused on Maximizing the Business Value of SharePoint 2013
Essential SharePoint® 2013 approaches Microsoft SharePoint 2013 from a strict business value perspective, helping you plan and implement solutions that achieve effective business results.
Leading SharePoint experts draw on their unsurpassed experience to provide business-focused guidance on strategy, governance, planning, deployment, and more. You'll find in-depth insights for success with collaboration, knowledge and content management, governance, and user adoption.
The authors help you choose features, organize information, define security models, and launch your solution. They present best practices for search, workflow, business intelligence, and integrating information from Office 2013 and beyond. Each chapter includes a section introducing new SharePoint 2013 capabilities, from improved site branding to native iPhone mobile apps.
Throughout, the authors identify success factors, intangibles, and "gotchas," helping you reduce risk and time-to-value. Learn how to
Ask the right questions to craft a plan that maximizes business value
Efficiently deploy either "green field" solutions or upgrades
Integrate web, Office, and mobile devices into a comprehensive collaboration solution
Plan effective governance of content, operations, and applications
Deliver enterprise content management, integrating documents, data, web content, and rich media
Use search to help find the right knowledge and people
Measure and optimize user adoption to increase ROI
Evaluate the cloud-based SharePoint Online option
Use social tools to promote deeper user interaction
Collaborate and communicate with customers, partners, and suppliers
Quickly create agile solutions with mashups and composites
Whether you're a business leader, IT manager, architect, analyst, developer, or consultant, this book will help you tightly align SharePoint projects with business strategy to deliver outstanding results.
Table of Contents
Chapter 1. Your Reading Journey
Part I: Planning
Chapter 2. Planning Your Solution Strategy
Chapter 3. Introducing the SharePoint 2013 Platform
Chapter 4. Planning for Business Governance
Chapter 5. Planning for Operational Governance
Chapter 6. Planning Your Information Architecture
Chapter 7. Planning Your Adoption Strategy
Chapter 8. Developing a Value Measurement Strategy
Chapter 9. Understanding Architecture Fundamentals
Chapter 10. Planning Your Upgrade
Chapter 11. Taking SharePoint to the Cloud
Chapter 12. Planning Security
Part II: Optimizing
Chapter 13. Managing Enterprise Content
Chapter 14. Managing Web Content
Chapter 15. Planning for Social Computing
Chapter 16. Planning Enterprise Search
Chapter 17. Planning Business Solutions
Chapter 18. Planning for Business Intelligence
Chapter 19. Planning for Mobility
Chapter 20 Integrating Office Applications
Appendix. Content You Can Reuse
Book Details
Paperback: 784 pages
Publisher: Addison-Wesley Professional; 3rd Edition (August 2013)
Language: English
ISBN-10: 0321884116
ISBN-13: 978-0321884114
Download [52.4 MiB]