Microsoft SharePoint 2013 Administration Inside Out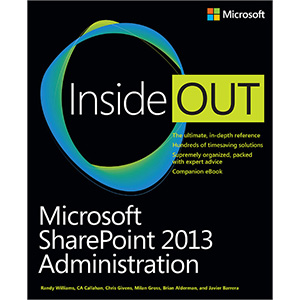 Conquer Microsoft SharePoint 2013 administration—from the inside out!
Dive into SharePoint 2013 administration—and really put your systems expertise to work! This supremely organized reference packs hundreds of timesaving solutions, troubleshooting tips, and workarounds. Discover how the experts deploy, configure, and manage SharePoint—and challenge yourself to new levels of mastery.
Automate the installation and configuration of SharePoint 2013
Effectively manage SharePoint apps and custom solutions
Optimize farms, web apps, content databases, and site collections
Use methods to help users attain productive search experiences
Configure business intelligence features in SharePoint 2013
Dive deep into SharePoint security practices and architecture
Add SharePoint Online to your existing SharePoint environment
Manage User Profiles and the SharePoint social experience
Monitor and troubleshoot SharePoint with insider tips
For Intermediate to Advanced IT Professionals
Table of Contents
Chapter 1. What's new in SharePoint 2013
Chapter 2. Planning and preparing for SharePoint 2013 installation
Chapter 3. Upgrading to SharePoint 2013
Chapter 4. Installing SharePoint 2013
Chapter 5. Managing farms, web applications, and content databases
Chapter 6. Creating and managing service applications
Chapter 7. Creating and managing site collections
Chapter 8. Creating and configuring Search service applications
Chapter 9. Customizing search results and the Search Center site
Chapter 10. Configuring Metadata Management Services
Chapter 11. Configuring User Profile Services
Chapter 12. Understanding and configuring social capabilities
Chapter 13. Configuring Business Connectivity Services
Chapter 14. Configuring records management and eDiscovery
Chapter 15. Understanding and managing SharePoint 2013 apps
Chapter 16. Managing farm and sandboxed solutions
Chapter 17. Installing and configuring business intelligence components
Chapter 18. Monitoring and troubleshooting SharePoint 2013
Chapter 19. Understanding and configuring security
Chapter 20. Scaling and optimizing farms
Chapter 21. Installing and configuring Office Web Apps 2013
Chapter 22. Understanding SharePoint Online, Azure, and hybrid scenarios
Chapter 23. Performing content and disaster recovery
Book Details
Paperback: 954 pages
Publisher: Microsoft Press (January 2014)
Language: English
ISBN-10: 0735675392
ISBN-13: 978-0735675391
Download [32.8 MiB]