Economics for Environmental Studies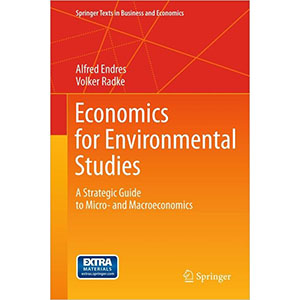 An understanding of fundamental economic concepts is essential for students in environmental studies programs around the world. The present textbook addresses their needs, providing a concise introduction to micro- and macroeconomics and demonstrating how these economic tools and approaches can be used to analyze environmental issues. Written in an accessible style without compromising depth of the analysis, central issues in the public policy debate on environmental problems and environmental policy are discussed and analyzed from an economics perspective.
The book is meant both as an introductory text for undergraduate students in environmental sciences without a background in economics, and as a companion for economists interested in a presentation of the micro and macro foundations of environmental  economics, in a nutshell.
Provides readers with the micro- and macroeconomic concepts and tools needed for environmental studies and environmental economics
 Presents a goal-oriented introduction to economics for non-economists and also serves as a "refresher" for economists
Review questions, exercises and solutions included in the text
Table of Contents
Chapter 1. Introduction
Part I: Economics What Is It About and How Does It Relate to the Natural Environment?
Chapter 2. The Fundamental Problem
Chapter 3. The Economic Approach
Chapter 4. Integration of the Natural Environment: Socially Undesirable Utilization of Natural Goods
Chapter 5. Summary to Part I and Looking Ahead
Part II: Microeconomics and the Natural Environment
Chapter 6. Fundamental Concepts of Microeconomics
Chapter 7. A Sketch on Environmental Microeconomics
Chapter 8. Summary to Part II and Looking Ahead
Part III: Macroeconomics and the Natural Environment
Chapter 9. Fundamental Concepts of Macroeconomics
Chapter 10. A Sketch on Environmental Macroeconomics
Chapter 11. Summary to Part III
Book Details
Hardcover: 195 pages
Publisher: Springer (August 2012)
Language: English
ISBN-10: 364231192X
ISBN-13: 978-3642311925
Download [1.2 MiB]