IFRS Made Easy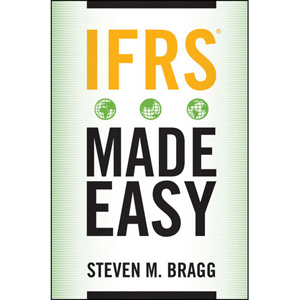 The definitive guide to all things IFRS
IFRS Made Easy provides complete, easy-to-navigate coverage of all International Financial Reporting Standards (IFRSs) with concise explanations and hundreds of supporting examples. This reference tool goes anywhere you go-to a client's office, on a business trip, or to an important lunch meeting, with on-the-spot answers to any questions that arise.
Practical, plain -language explanation of the international financial accounting and reporting standards
Summarizes International Financial Reporting Standards
Liberally sprinkled with definitions and examples
Notes applicable IFRS source documents
Written for every company struggling with the impact of convergence, IFRS Made Easy clearly explains how IFRS will impact your company, how you will need to account for various specific items, and more. This book is filled with practical techniques and rules of thumb for understanding the day-to-day IFRS issues every accountant, controller or CFO is sure to face-and puts all the answers you need at your fingertips.
From the Inside Flap
International Financial Reporting Standards (IFRS) have been adopted by over 120 nations, with U.S. adoption of IFRS® slated for 2016. While convergence to IFRS® appears to be inevitable, most companies have not even begun the process. Practical, with plain-language explanations, IFRS® Made Easyprovides an easy-to-follow, nontechnical reference for accountants, controllers, and CFOs. Clarifying IFRS® in simple terms, author and renowned accounting leader Steven Bragg provides guidance for the most common accounting issues arising from international financial reporting standards on topics including:
Revenue recognition rules
Defined benefit and defined contribution pension plans
Payments based on an entity's share price
Deferred tax assets and liabilities
Cash flow hedges and fair value hedges
Investments in associates and joint ventures
Inventory revaluations
Fair value adjustments for property, plant, and equipment
Asset impairment
How will IFRS® impact your company? How will you need to account for various specific items? How can you report on special situations? If you want nuts-and-bolts answers to questions like these without overcomplicated explanations, IFRS® Made Easy is for you, providing the solid framework you need to fully prepare for IFRS® conversion.
Book Details
Hardcover: 266 pages
Publisher: Wiley (December 2010)
Language: English
ISBN-10: 0470890703
ISBN-13: 978-0470890707
Download [790.9 KiB]