Get Up to Speed with Online Marketing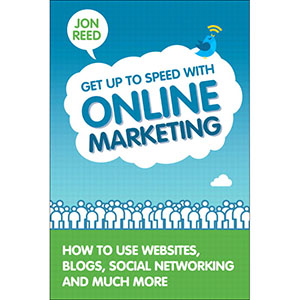 This book shows you how to get up to speed with online marketing and go where your market is so you can effectively promote your business on a limited budget. The book explains in a straightforward style all there is to know about promoting small businesses online, and covers all the major online tools available, including websites, search engine marketing, email marketing, blogging, podcasts, online video, social networks, virtual worlds, and social bookmarking.
Get Up to Speed with Online Marketing shows readers how to use each medium to their best effect on a limited marketing budget, if not for free!
This straightforward, step-by-step guide to online marketing shows you affordable and effective ways to:
Create a website
Get found on Google
Get your email marketing right
Create content your market will value with blogs, podcasts, video and images
Promote your business with social networking sites such as Facebook, LinkedIn and Twitter
Develop a coherent online marketing plan
Manage your online marketing workload
Measure your results
"Not to be part of the social media revolution is to miss out. Jon Reed really gets it and shows you how to join in."
–Suzanne Moore, Columnist, Mail on Sunday
"If you want to use social media to build your business, [this] straightforward guide will help you figure out where to start."
–Suzanne Kavanagh, Skillset
Table of Contents
Part one: Get strategic
Chapter 1. Online marketing 101
Chapter 2. Your online marketing plan
Part two: Get online
Chapter 3. Establish a web presence: How to build a website with no technical knowledge
Chapter 4. Boost your search engine rankings: How to increase your visibility on Google
Chapter 5. Engage with email: How to build an email list without annoying people
Part three: Get creative
Chapter 6. Build a blog: How to build trust, reputation, and traffic
Chapter 7. Podcast for profit: How to attract an audience of loyal listeners
Chapter 8. Lights, camera, action!: How to produce online video on a budget
Chapter 9. Show, don't tell: How to showcase your business on photo-sharing sites
Part four: Get out there
Chapter 10. Build a community: How to choose and use social networks
Chapter 11. Find fans on Facebook: How to harness the world's largest network
Chapter 12. Create credibility on LinkedIn: How to take your business networking online
Chapter 13. Tap into Twitter: How to use the power of the real-time Web to build a following
Chapter 14. Jack into the Matrix: How to make real money in virtual worlds
Chapter 15. Pass it on: How to be discovered on social bookmarking sites
Part five: Get help
Chapter 16. Do you need a consultant?: How to find someone to help you achieve your vision
Book Details
Paperback: 272 pages
Publisher: FT Press (May 2012)
Language: English
ISBN-10: 0133066274
ISBN-13: 978-0133066272
Download [14.9 MiB]