Project 2013 For Dummies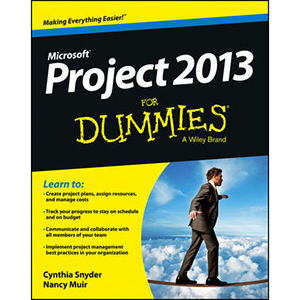 An easy-to-understand guide to the?latest version of Microsoft's enterprise project management software: Project 2013
If you've never used project management software before?or if?you're just getting up to speed on the new features in Project 2013, this is the book for you! With this easy-to-understand guide, you have a completely updated resource that covers the latest changes and newest enhancements to Project 2013 and shows you how to?make Project 2013 work for you. After an introduction to basic project management concepts, you'll discover the mechanics of using Project software to create and manage projects. Other topics covered include working with calendars, using and sharing resources, budgeting, formatting taskbars, gathering and tracking data, working with reports, and creating templates.
Shows you how to manage resources, share project information, perform scenario analysis, and standardize reporting processes
Presents completely updated coverage of the new Project 2013
Reviews formatting taskbars, gathering and tracking data, and working with reports
Addresses using and sharing resources, creating templates, and managing projects
Take charge of your next project and ensure its success with a little help from Project 2013 For Dummies.
Table of Contents
Part I: Getting Started with Project 2013
Chapter 1. Project Management, Project 2013, and You
Chapter 2. Starting the Project
Chapter 3. Becoming a Task Master
Chapter 4. The Codependent Nature of Tasks
Chapter 5. Estimating Task Time
Chapter 6. Check Out This View!
Part II: Managing Resources
Chapter 7. Creating Resources
Chapter 8. Working with Calendars
Chapter 9. Assigning Resources
Chapter 10. Determining a Project's Cost
Part III: Before You Baseline
Chapter 11. Fine-Tuning Your Plan
Chapter 12. Negotiating Project Constraints
Chapter 13. Making the Project Look Good
Chapter 14. It All Begins with a Baseline
Part IV: Staying on Track
Chapter 15. On the Right Track
Chapter 16. Project Views. Observing Progress
Chapter 17. You're Behind — Now What?
Chapter 18. Spreading the News. Reporting
Chapter 19. Getting Better All the Time
Part V: The Part of Tens
Chapter 20. Ten Golden Rules of Project Management
Chapter 21. Ten Cool Shortcuts in Project 2013
Book Details
Paperback: 360 pages
Publisher: For Dummies (April 2013)
Language: English
ISBN-10: 1118496396
ISBN-13: 978-1118496398
Download [21.5 MiB]