George Lindsay and the Art of Technical Analysis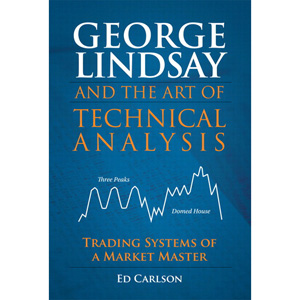 Eight months in advance, one eccentric genius predicted the start of history's greatest bull market—accurate to within 17 days and 7 Dow Jones points. Then, days before his death, he called its end—precisely. Louis Rukeyser called him "uncannily accurate." The Stock Traders Almanac called his work "the finest long-term forecast we have ever seen." Honored by his peers, admired for his profound knowledge of history and markets, George Lindsay is now nearly forgotten. Much of his most significant research has been relegated to yellowing, typed newsletters. Until now. In George Lindsay and the Art of Technical Analysis, Ed Carlson demonstrates the immense power of Lindsay's methods in today's markets. Using visual models, Carlson explains Lindsay's models clearly, simply, and intuitively. Using this book, investors and traders can apply these techniques without strong mathematical expertise, and without deciphering Lindsay's dense writing style. Carlson walks through using Lindsay's "Three Peaks and a Domed House" model to uncover surprising patterns in "haphazard" short-lived movements… using Lindsay's "Timing Method for Traders" to identify tradeable market tops and get out of bull markets in time… predicting "decisive, often violent" market movements, and more. This book is an indispensable addition to any technical analysis library—and every technician's trading arsenal.
From the Back Cover
"George Lindsay was far more than just another analyst seeking solutions to the market's mysteries. He made some eerily accurate market predictions, and his techniques and explanations continue to be roadmaps for many of today's better technical analysts. This book belongs on the desk of anyone who is serious about market analysis and forecasting."
–Peter Eliades, Editor-Publisher, Stockmarket Cycles; President, Stockmarket Cycles Management
"George Lindsay was a gifted market visionary, who operated at a time when all of the wonderful technical tools we now use were unavailable. He had to get by on just what he could see in the simple charts, and that led Lindsay to find patterns and behaviors invisible to most people. Ed Carlson has captured these lessons before they are lost to time so that we can all benefit."
–Tom McClellan, Editor, The McClellan Market Report, www.mcoscillator.com
"For followers and fans of George Lindsay and his methods, look no further because this is the bible. For those wishing to study the life and methods of George Lindsay, this book is a must for your bookshelf."
–Martin Pring, President, Pring.com
"Ed Carlson has done market analysts a terrific service in presenting George Lindsay's work for posterity. The book starts with a well-researched biography and progresses to an organized presentation of Lindsay's insights into history and market patterns. The book is filled with illustrations and rounded out with pithy quotes from Lindsay. When you finish the book, you feel that you just spent a week with the guy."
–Robert Prechter, Elliott Wave International
"Ed Carlson presents an engaging account of a long-forgotten market technician, using real market action to animate his tale. As a trader, Ed makes the story useful and readers can easily apply the lessons of history to their own portfolios."
–Michael Carr, Chief Market Strategist, Dunn Warren Investment Advisors; Editor of the Market Technicians Association newsletter, Technically Speaking
"I remember reading some of Lindsay's works in the Encyclopedia of Stock Market Techniques and saw him on Wall Street Week. Both were fairly difficult to comprehend at the time (mid-1980s), but it was fascinating to watch and read his determination to project his analysis, especially with enthusiasm and an abundance of confidence. Ed Carlson has interpreted seemingly difficult information into an extraordinary tome about a market technique that has been essentially lost for decades. This is the first work on Lindsay that I have seen which lays out his process in an orderly and understandable manner. It was truly enjoyable reading."
–Greg Morris, author of Candlestick Charting Explained and The Complete Guide to Market Breadth Indicators; Chief Technical Analyst, Stadion Money Management
From 1950 through the 1970s, George Lindsay created some of technical analysis's most fertile and profitable innovations. Brilliant and eccentric, Lindsay was honored with the Market Technician's Award in 1991–the field's most prestigious honor. Until now, however, the primary source for Lindsay's work has been his old newsletters: materials that can be difficult to find and work with.
Now, Ed Carlson rescues Lindsay's powerful methods for posterity–and for modern investors savvy enough to recognize their value. Carlson explains Lindsay's models clearly, simply, and visually. Using this book, you can apply Lindsay's techniques without strong mathematical expertise and without deciphering Lindsay's dense writing style.
Whether you're a long- or short-term investor, money manager, or market historian, this book will be an indispensable addition to your technical analysis library–and your trading arsenal.
Recognize surprising patterns in "haphazard" movements: how Lindsay's "Three Peaks and a Domed House" model demystifies short-lived trends
Use "The Lindsay Timing Model" to identify tradable market tops
Predict "decisive, often violent" market movements
Author includes a start-to-finish case study to better understand Lindsay's methods
Book Details
Hardcover: 256 pages
Publisher: FT Press (July 2011)
Language: English
ISBN-10: 0132699060
ISBN-13: 978-0132699068
Download [10.6 MiB]