Data Visualization: a successful design process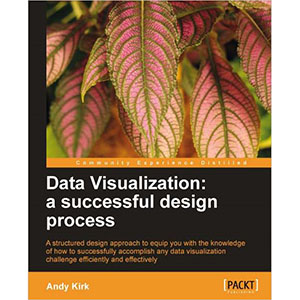 Do you want to create more attractive charts? Or do you have huge data sets and need to unearth the key insights in a visual manner? Data visualization is the representation and presentation of data, using proven design techniques to bring alive the patterns, stories and key insights locked away.
"Data Visualization: a Successful Design Process" explores the unique fusion of art and science that is data visualization; a discipline for which instinct alone is insufficient for you to succeed in enabling audiences to discover key trends, insights and discoveries from your data. This book will equip you with the key techniques required to overcome contemporary data visualization challenges.
You'll discover a proven design methodology that helps you develop invaluable knowledge and practical capabilities.
You'll never again settle for a default Excel chart or resort to 'fancy-looking' graphs. You will be able to work from the starting point of acquiring, preparing and familiarizing with your data, right through to concept design. Choose your 'killer' visual representation to engage and inform your audience.
"Data Visualization: a Successful Design Process" will inspire you to relish any visualization project with greater confidence and bullish know-how; turning challenges into exciting design opportunities.
What you will learn from this book
A comprehensive and contemporary introduction to data driven visualization design and the most effective approaches to tackle any design challenge.
How to achieve maximum impact with designs that engage on an aesthetic level and perform on a functional one.
Foundation understanding of the human visual system
Identifying the purpose of your visualization and your projects parameters to determine overriding design considerations across your project's execution
How to develop analytical questions and identify a visual narrative as you immerse yourself in your data, familiarizing with its inherent qualities
Apply critical thinking to visualization design and get intimate with your dataset to identify its potential visual characteristics
Appreciating the importance of an editorial approach to design and best practice approaches for tackling different data types and problem contexts
A thorough overview of the anatomy of a data visualization design and a menu of the most important and innovative visualization methods
Overview of the essential visualization tools and resources
Profile of some of the most impressive and inspiring contemporary visualization projects
Approach
A comprehensive yet quick guide to the best approaches to designing data visualizations, with real examples and illustrative diagrams. Whatever the desired outcome ensure success by following this expert design process.
Who this book is for
This book is for anyone who has responsibility for, or is interested in trying to find innovative and effective ways to visually analyze and communicate data.
There is no skill, no knowledge and no role-based pre-requisites or expectations of anyone reading this book.
Book Details
Paperback: 206 pages
Publisher: Packt Publishing (December 2012)
Language: English
ISBN-10: 1849693463
ISBN-13: 978-1849693462
Download [31.4 MiB]