The Complete Guide to DAZ Studio 4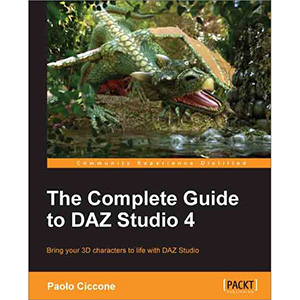 While 3D technology can be intimidating, DAZ Studio provides a perfect entry point for anybody interested in it. DAZ Studio is designed to empower the readers with tools to manipulate "ready to use" models and figures. With DAZ Studio, you can use thousands of pre-made 3D models and create fantastic scenes without any hassle. Embark on a journey through the amazing world of 3D designing and create great 3D art with DAZ Studio. This book will show you the way!
The Complete Guide to DAZ Studio 4 shows you how to effectively use DAZ Studio 4 from start to finish. This guide takes you on a fun journey into the world of 3D art with DAZ Studio. Using everyday situations and practical examples, this book leads you from understanding the basics of 3D to the exploration of all the relevant topics, including posing, lighting, rendering, and content installation. You will follow step-by-step examples that will show you how to create great 3D art with fun and ease.
With a free download code for Dawn: the brand new and hugely anticipated 3D figure by Hivewire3D and two free environments by renowned 3D artist Jack Tomalin, this book is a must-read for all aspiring 3D artists.
What you will learn from this book
Pose human figures in a natural and believable way
Use morphs to create new characters and install new content in DAZ Studio
Understand the building blocks of a 3D model and modify the DAZ Studio materials
Build a complete scene, with a character in a full environment
Frame your shot and use the camera effectively
Understand the basic principles and approach for lighting a scene
Create geometrically accurate images with photo-realistic rendering
Achieve photo-realism in DAZ Studio with the Reality plugin
Create your own content in DAZ Studio and sell it online
Animate your characters and create movies with DAZ Studio
Approach
The book builds up a complete project from scratch and demonstrates the power of DAZ to create life-like characters. The book is replete with detailed examples and instructions on creating a tailor-made marvel out of scratch.
Who this book is written for
This book can be used by anybody who has DAZ Studio 4, regardless of their level of familiarity with the program or the concepts of 3D art.
Book Details
Paperback: 348 pages
Publisher: Packt Publishing (October 2013)
Language: English
ISBN-10: 1849694087
ISBN-13: 978-1849694087
Download [52.0 MiB]