CoffeeScript Application Development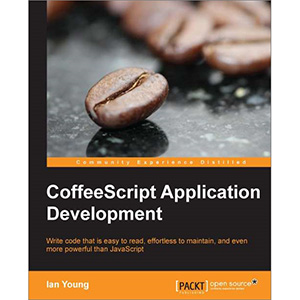 JavaScript is becoming one of the key languages in web development. It is now more important than ever across a growing list of platforms. CoffeeScript puts the fun back into JavaScript programming with elegant syntax and powerful features.
CoffeeScript Application Development will give you an in-depth look at the CoffeeScript language, all while building a working web application. Along the way, you'll see all the great features CoffeeScript has to offer, and learn how to use them to deal with real problems like sprawling codebases, incomplete data, and asynchronous web requests.
Through the course of this book you will learn the CoffeeScript syntax and see it demonstrated with simple examples. As you go, you'll put your new skills into practice by building a web application, piece by piece. You'll start with standard language features such as loops, functions, and string manipulation. Then, we'll delve into advanced features like classes and inheritance. Learn advanced idioms to deal with common occurrences like external web requests, and hone your technique for development tasks like debugging and refactoring.
CoffeeScript Application Development will teach you not only how to write CoffeeScript, but also how to build solid applications that run smoothly and are a pleasure to maintain.
What you will learn from this book
Write CoffeeScript everywhere, and compile it to JavaScript that can run anywhere
Discover techniques to manage a complicated codebase and ever-changing requirements
Drop the semicolons with CoffeeScript's clean, powerful syntax
Build for loops, if statements, and functions without all the extra keystrokes
Keep your code clean and organized with classes and inheritance
Use advanced CoffeeScript idioms to deal with the needs of a growing application
Debug effectively with source maps
Integrate CoffeeScript into your project seamlessly with Rails, Brunch, and other web frameworks
Utilize CoffeeScript for server-side software with Node.js
Approach
CoffeeScript Application Development is a practical, hands-on guide with step-by-step instructions. Follow the smooth and easy tutorial approach, covering examples that build in complexity. By the final chapter you'll be wondering why you didn't try CoffeeScript sooner.
Who this book is written for
If you are a JavaScript developer who wants to save time and add power to your code, then this is the book that will help you do it. With minimal fuss you will learn a whole new language which will reduce your application development time from weeks to days.
Book Details
Paperback: 258 pages
Publisher: Packt Publishing (August 2013)
Language: English
ISBN-10: 1782162666
ISBN-13: 978-1782162667
Download [10.3 MiB]