Drupal For Dummies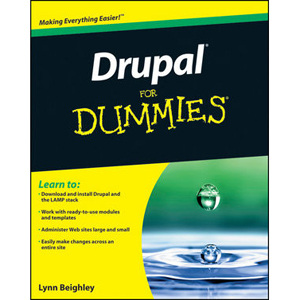 Learn to set up, manage, and administer a Drupal Web site
Drupal offers unparalleled flexibility for content-managed Web sites, but most Drupal books are written for expert developers. Drupal For Dummies shows you the fast, fun and easy way to get going with Drupal, set up a site, apply templates, use modules, and more, even if you have no programming experience.
Drupal For Dummies shows you how to take advantage of everything in Drupal that is ready to use, demystifying what may appear to be a complex set of tools.
Drupal is a free, open source modular framework and content management system designed for content-managed Web sites
Learn how to download Drupal, install the LAMP stack, and set up a site; no programming experience required
Organize and create your site's content; apply templates, and get your first site up and running
Use modules and third-party templates
Follow plain-English instructions for site management, including making changes across the site and managing user access and privileges
Drupal For Dummies is designed to help the non-programmer who simply wants to turbocharge a blog or is responsible for administering a content-managed site.

From the Back Cover
Drop in and check out Drupal, the free, flexible framework for building and managing Web sites
Even if you've never built a Web site and the only thing you've programmed is your DVR, you really can set up a site with Drupal. This book shows you how to find and install the right version of Drupal, how to plan your site, and how to manage it. You can even beef it up with data from other sites, a storefront, an image gallery, and much more!
Start here — find the free software and get simple solutions on things like setting up a database and installing Drupal on a Web host
Who's in charge — manage an administrator account, establish rules, and control site users
What's on your site — create, manage, and edit your content, and decide whether to allow comments
Where's your region? — work with themes and regions and manage menus
Open forum — create a site with a blog and forum and set up appropriate security
Stay current — keep Drupal up to date, monitor activity on your site, and locate new modules and themes to use
Cover your bases — maintain your database, back it up, and know how to restore it
Move up — see how Drupal can build a robust site that interacts with other sites and how to set up an online store
Open the book and find:
What Drupal is and what it's not
Tools you need to install Drupal
How to decide on rules and settings for your site
Tips for telling your story quickly
Advice on choosing, changing, and configuring themes
All about modules
How to use reports
Secrets of good site security
Book Details
Paperback: 384 pages
Publisher: For Dummies (December 2009)
Language: English
ISBN-10: 0470556110
ISBN-13: 978-0470556115
Download [7.1 MiB]