Adobe Dreamweaver CS5: Comprehensive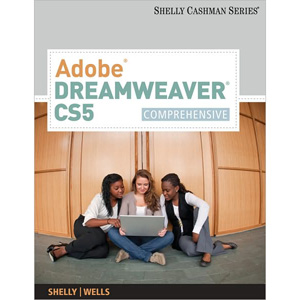 Adobe Dreamweaver CS5: Comprehensive follows the Shelly Cashman Series® proven step-by-step, screen-by-screen approach to teaching the Adobe Dreamweaver CS5 software. The pedagogy of this text has been enhanced to reflect the learning styles of today's students. Readers will easily follow along with the chapters in the text to gain valuable and comprehensive software skills to build their own exciting and dynamic Web sites and develop Internet applications.
Teaches students to build a Web site as a continuing case project throughout the book that they can use as a Web portfolio.
Offers project-specific cases to give students an understanding of the objectives taught in each chapter.
Reinforces skills and concepts with extensive end-of-chapter exercises including Extend Your Knowledge, Make It Right, and Make It Personal.
A step-by-step, screen-by-screen approach allows students to successfully learn and retain information to be used in their personal and professional lives.
Table of Contents
Introduction: Web Site Development and Adobe Dreamweaver CS5.
1. Creating a Dreamweaver Web Page and Local Site.
2. Adding Web Pages, Links, and Images.
3. Tables and Page Layout.
4. Templates and Style Sheets.
5. Absolute Positioning, Image Maps, the History Panel, and Date Objects.
6. Forms.
7. Using Spry to Create Interactive Web Pages.
8. Advanced Spry Activities.
9. Media Objects.
SF: New and Updated Features in Dreamweaver CS5.
Appendices:
A: Adobe Dreamweaver CS5 Help.
B: Dreamweaver and Accessibility.
C: Publishing to a Web Server.
D: Customizing Adobe Dreamweaver CS5.
Book Details
Paperback: 704 pages
Publisher: Course Technology (March 2011)
Language: English
ISBN-10: 0538473940
ISBN-13: 978-0538473941
Download [72.9 MiB]