Business Intelligence Cookbook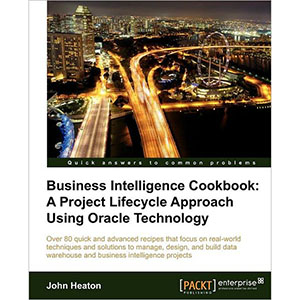 Oracle Database 11g is a comprehensive database platform for data warehousing and business intelligence that combines industry-leading scalability and performance, deeply-integrated analytics, and embedded integration and data-quality all in a single platform running on a reliable, low-cost grid infrastructure. This book steps through the lifecycle of building a data warehouse with key tips and techniques along the way.
Business Intelligence Cookbook: A Project Lifecycle Approach Using Oracle Technology outlines the key ways to effectively use Oracle technology to deliver your business intelligence solution. This is a practical guide starting with key recipes for project management then moving onto project delivery.
Business Intelligence Cookbook: A Project Lifecycle Approach Using Oracle Technology is a practical guide for performing key steps and functions on your project.
This book starts with setting the foundation for a highly repeatable efficient project management approach by assessing your current methodology to see how suitable it is for a business intelligence program. We also learn to set up the project delivery phases to consistently estimate the effort for a project. Along the way we learn to create blueprints for the business intelligence solution that help to connect and map out the destination of the solution. We then move on to analyze requirements, sources, and data. Finally we learn to secure the data as it is an important asset within the organization and needs to be secured efficiently and effectively.
What you will learn from this book
Master some of the key techniques and components to enable you to visualise and interrogate information effectively
Understand additional and advanced techniques to enhance your ETL/ELT solution
Learn to build the data model using Oracle SQL Data Modeller and the Oracle Database to build your logical and physical data model and OBIEE to build the presentation data model.
Develop data discovery scripts to uncover data issues and gaps
Learn to reverse engineer source data models and map data sources to business requirements using Oracle SQL Data Modeller.
Get to grips with mapping information into semantic definitions
Understand the ways to define a security model
Approach
This book is written in a simple, easy to understand format with lots of screenshots and step-by-step explanations.
Who this book is for
If you are Project Managers or IT professionals looking to design and develop a data warehouse and business intelligence solution, then this is the best guide for you.
This book assumes that you have a fundamental knowledge of data warehouse and business intelligence projects.
Book Details
Paperback: 368 pages
Publisher: Packt Publishing (July 2012)
Language: English
ISBN-10: 1849685487
ISBN-13: 978-1849685481
Download [32.8 MiB]