Oracle Data Guard 11gR2 Administration: Beginner's Guide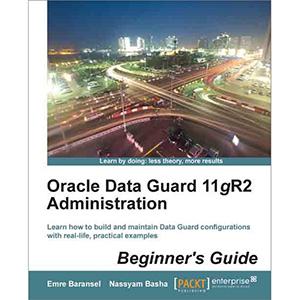 Data Guard is the high availability, disaster recovery and data replication solution for Oracle Databases.
With the huge growth of Data Guard it's getting harder to encounter an Oracle DBA not dealing with Data Guard. Since it's a common DBA task to provide high availability of databases, Data Guard is a must-know topic for every Oracle Database Administrator.
"Oracle Data Guard 11g R2 Beginner's Administration Guide" is a practical guide that provides all the information you will need to configure and maintain Data Guard. This book will show you what Data Guard can really do.
By following the practical examples in this book, you'll learn to set up your Data Guard Broker, the management framework for Data Guard configurations. Learn and implement different data protection modes, perform role transitions between databases (switchover and failover) and configure Active Data Guard. Next, we will dive into the features of Snapshot Standby. The book progresses into looking at Data Guard configuration with other Oracle products (such as EM, RAC, and RMAN) and patch databases in Data Guard. The final chapters will cover commonly encountered Data Guard issues and Data Guard best practices, which are very important to make a Data Guard configuration perfect and take maximum advantage of Data Guard properties.
What you will learn from this book
Implement Data Guard best practices
Set up physical and logical standby databases to build Data Guard configurations
Configure and use Data Guard Broker for an easier and more comprehensive management of Data Guard
Design configurations with different data protection levels
Perform switchover and failover operations
Use Active Data Guard and Snapshot Standby features to access standby databases in read-only and read-write modes
Integrate Data Guard with RAC, RMAN, and Enterprise Manager 12c Cloud Control
Patch Oracle Databases in a Data Guard environment
Deal with the most common Data Guard issues
Configure cascade standby databases, compression, and cross-platform implementation
Approach
Using real-world examples and hands-on tasks, Oracle Data Guard 11gR2 Administration Beginner's Guide will give you a solid foundation in Oracle Data Guard. It has been designed to teach you everything you need to know to successfully create and operate Data Guard environments with maximum flexibility, compatibility, and effectiveness.
Who this book is for
If you are an Oracle database administrator who wants to configure and administer Data Guard configurations, then "Oracle Data Guard 11gR2 Administration Beginner's Guide" is for you. With a basic understanding of Oracle database administration, you'll be able to easily follow the book.
Book Details
Paperback: 404 pages
Publisher: Packt Publishing (June 2013)
Language: English
ISBN-10: 1849687900
ISBN-13: 978-1849687904
Download [14.1 MiB]