Energy Finance and Economics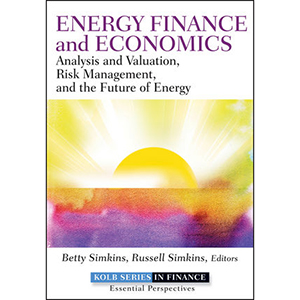 Thought leaders and experts offer the most current information and insights into energy finance
Energy Finance offers the most up-to-date information and compelling insights into the finance and economics of energy. With contributions from today's thought leaders who are experts in various areas of energy finance and economics, the book provides an overview of the energy industry and addresses issues concerning energy finance and economics.
The book focuses on a range of topics including corporate finance relevant to the oil and gas industry as well as addressing issues of unconventional, renewable, and alternative energy.
A timely compendium of information and insights centering on topics related to energy finance
Written by Betty and Russell Simkins, two experts on the topic of the economics of energy
Covers special issues related to energy finance such as hybrid cars, energy hedging, and other timely topics
In one handy resource, the editors have collected the best-thinking on energy finance.
Table of Contents
Chapter 1. An Introduction to Energy Finance and Economics
Part 1: An Overview of Energy Finance and Economics
Chapter 2. Geopolitics and World Energy Markets*
Chapter 3. Energy Economics
Chapter 4. Sustainable Energy: Myths and Realities
Chapter 5. A Brief Introduction to the Petroleum Industry
Chapter 6. The Economics of Renewable Energy*
Chapter 7. How Our Political Views Affect Our View of Energy Prices
Part 2: Financial and Economic Analysis in the Energy Industry
Chapter 8. Oil and Gas Accounting
Chapter 9. Financial Statement Analysis for Oil and Gas Companies and Competitive Benchmarking
Chapter 10. Petroleum Economics, Risk and Opportunity Analysis: Some Practical Perspectives
Chapter 11. Real Options and Applications in the Energy Industry*
Chapter 12. International Petroleum Fiscal System Design and Analysis
Chapter 13. Financing Large Energy Projects
Chapter 14. Financing Bio-Fuels Projects: Case Study Lessons
Part 3: Energy Risk Management and Related Topics
Chapter 15. Energy Derivatives and Markets*
Chapter 16. Introduction to Energy Risk Management
Chapter 17. Risks in Trading Energy Commodities
Chapter 18. Carbon Management and Environmental Issues
Chapter 19. Hedging and Value in the U.S. Airline Industry*
Part 4: Case Studies
Chapter 20. PKO Resources, Inc.: Valuing a Producing Oil and Gas Property*
Chapter 21. Financial Analysis of the Purchase of a Hybrid Consumer Vehicle
Chapter 22. ExxonMobil Corp.'s Acquisition of XTO Energy, Inc.
Chapter 23. Southwest Airlines*
Chapter 24. Wind Energy Power Company, Inc. (A)
Chapter 25. A Case Study on Risk Management: Lessons from the Collapse of Amaranth Advisors LLC
Book Details
Hardcover: 624 pages
Publisher: Wiley (February 2013)
Language: English
ISBN-10: 1118017129
ISBN-13: 978-1118017128
Download [11.5 MiB]