FileMaker Pro 12: The Missing Manual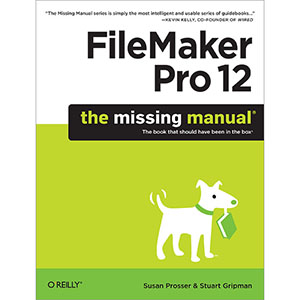 You don't have to be a techie to use FileMaker Pro 12, but you do need to know what you're doing. With this crystal-clear guide, you'll learn how to create a powerful database that lets you do almost anything with your data. Whether you're running a business, printing a catalog, or planning a wedding, you'll learn how to customize your database and put it to work.
The important stuff you need to know:
Get started. Tour FileMaker Pro's features and create your first database in minutes.
Catalog your data. View, sort, and shape information in dozens of ways.
Create professional documents. Publish reports, invoices, and other documents with ease.
Harness processing power. Use calculations and scripts to crunch numbers, search text, and automate tasks.
Add visual power and clarity. Create colorful charts to illustrate and summarize your data.
Think like a developer. Dive into the high-level features of FileMaker Pro Advanced.
Table of Contents
Part I: Getting Started with FileMaker
Chapter 1. Working with a Database
Chapter 2. Organizing and Editing Records
Part II: Building Your First Database
Chapter 3. Creating a Custom Database
Chapter 4. Adding Power to Your Database
Part III: Thinking Like a Developer
Chapter 5. Creating and Managing a Relational Database
Chapter 6. Field Options
Chapter 7. Layout Mechanics
Chapter 8. Layout Design
Chapter 9. Understanding Calculations
Chapter 10. More Calculations and Data Types
Chapter 11. Understanding Scripts
Chapter 12. Exploring Script Steps
Part IV: Becoming a Power Developer
Chapter 13. Applying Developer Utilities
Chapter 14. Advanced Relationship Techniques
Chapter 15. Reporting and Analysis
Chapter 16. Advanced Calculations
Chapter 17. Advanced Scripting
Part V: Security and Integration
Chapter 18. Sharing Your Database
Chapter 19. Adding Security
Chapter 20. Sharing Data with Other Systems
Part VI: Appendixes
Appendix A. Getting Help
Appendix B. File Conversion
Appendix C. Using the Insert Commands with Container Fields
Appendix D. FileMaker Error Codes
Book Details
Paperback: 960 pages
Publisher:O'Reilly Media / Pogue Press (July 2012)
Language: English
ISBN-10: 144931628X
ISBN-13: 978-1449316280
Download [79.4 MiB]