Building a Windows IT Infrastructure in the Cloud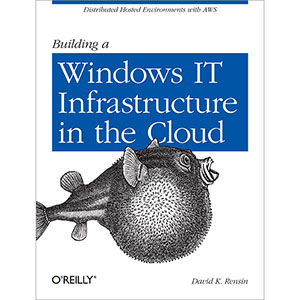 Run your entire corporate IT infrastructure in a cloud environment that you control completely—and do it inexpensively and securely with help from this hands-on book. All you need to get started is basic IT experience.
You'll learn how to use Amazon Web Services (AWS) to build a private Windows domain, complete with Active Directory, enterprise email, instant messaging, IP telephony, automated management, and other services. By the end of the book, you'll have a fully functioning IT infrastructure you can operate for less than $300 per month.
Learn about Virtual Private Cloud (VPC) and other AWS tools you'll use
Create a Windows domain and set up a DNS management system
Install Active Directory and a Windows Primary Domain Controller
Use Microsoft Exchange to set up an enterprise email service
Import existing Windows Server-based virtual machines into your VPC
Set up an enterprise-class chat/IM service, using the XMPP protocol
Install and configure a VoIP PBX telephony system with Asterisk and FreePBX
Keep your network running smoothly with automated backup and restore, intrusion detection, and fault alerting
Table of Contents
Chapter 1. To the Cloud!
Chapter 2. Directories, Controllers, and Authorities—Oh My!
Chapter 3. Let There Be Email!
Chapter 4. Doing Things the Easy Way
Chapter 5. Do You Have Some Time to Chat?
Chapter 6. The Voice of a New Generation
Chapter 7. Keeping Your Network Fit, Trim, and Healthy
Chapter 8. For Those About to Grok, We Salute You
Book Details
Paperback: 186 pages
Publisher: O'Reilly Media (September 2012)
Language: English
ISBN-10: 1449333583
ISBN-13: 978-1449333584
Download [18.6 MiB]