LMMS: A Complete Guide to Dance Music Production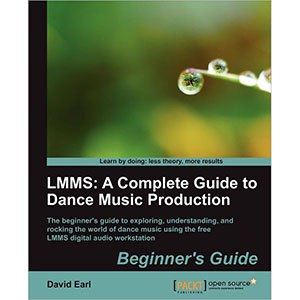 You've scoured the forums, watched the tutorial videos, and done everything you can to learn the secrets of the art of making dance music. Everyone is saying something different about how to get into producing your own projects. This book will help connect the dots and lay a solid foundation of knowledge so you can get beats banging out of LMMS.
This book will show you the ins and outs of making Dance music with LMMS. Do you make house, trance, techno or down-tempo? After this book you'll be able to make a song that stands out from the masses, using time honoured tricks of the trade. From inception to conception, this book will help give you a workflow to channel your muse using LMMS.
Readers will be given a brief lesson on the best of dance music history, then learn how to recreate it using the Open Source digital workstation – LMMS. The reader will be guided through creating a project from start to finish. By the end of this book, the reader will know how to create a full dance track in LMMS and make it ready for distribution.
Along the way, readers will take short stops into music theory, song arranging, recording, and other related information to give them a good foundation for making dance music with depth as well as power.
Reading LMMS: A Complete Guide to Dance Music Production will not just teach the reader how to use LMMS, but also how good dance music is crafted. The reader will not just be taught how to make decisions in LMMS, but when and why. After devouring this book, the reader should be able to focus on his or her creativity, with LMMS as a co-conspirator in the process of making great dance music.
What will you learn from this book
How to install and navigate LMMS
How to create compelling bass lines and loops
How to create a sample library of custom-made sounds
How to use the LMMS editors to create and edit your music
Explore the instruments included in LMMS
How to use the Song Editor to arrange a song
How to mix and use effects
How to export a mix from LMMS so that it can be shared with the world
Approach
Written in a step by step tutorial style, learning comes as a result of creating a complete dance music track, along with the explanations that follow each stage.
Who this book is written for
You have a computer and a love for dance and electronic music. Maybe you've been to some clubs, and the energy of electronic dance music has you completely under its spell. You see a DJ spinning, and everyone is dancing. It's infectious. You want to make music that affects people that way. Today the open source community has offered you LMMS. Read this book, and you'll be shown a process to creating great dance music. This book is going to connect the dots if you have already started making dance music, and provide a very solid foundation if you are just getting started – no matter what your skill level is.
Book Details
Paperback: 384 pages
Publisher: Packt Publishing (September 2012)
Language: English
ISBN-10: 1849517045
ISBN-13: 978-1849517041
Download [36.6 MiB]