Aftershot Pro: Non-destructive photo editing and management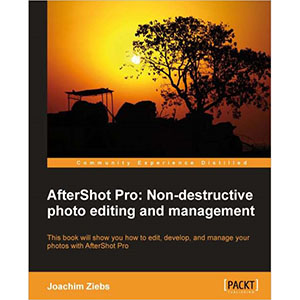 DSLRs and other digital cameras have the potential to create stunning images. However, to get the most out of them, it is necessary to use the RAW sensor data and to develop it yourself. When done correctly, the image quality is usually better than that of an in-camera jpeg. On the other hand, one has to have the knowledge to develop these RAW files
"Aftershot Pro: Non-Destructive Photo Editing and Management" is a practical hands-on guide that will show you how to develop the RAW sensor data of your camera into images. At the same time it will allow you to create a workflow that matches your creativity and the design of an image editing application.
This book shows you how to work with AfterShot Pro to get great images out of your photos. You will get clear explanations and lots of tips to achieve professional results by first using basic and then advanced editing features.
You will also learn to configure the application to your workflow by setting up keyboard mappings, changing the user interface, and most importantly by setting up batch processes that will help you save time for the creative part of editing while you leave the menial tasks to the computer
Additionally, you will learn how to manage your digital assets by using AfterShot Pro catalogs. If you want to take advantage of modern, non-destructive photo editing then this book is for you.
What you will learn from this book
Installing AfterShot Pro on MS Windows, MacOS, and GNU/Linux.
Performing basic editing tasks on RAW files.
Performing advanced editing tasks on RAW files.
Creating and adapting batch processes to your workflow.
Exporting your images into a variety of image formats and web galleries.
Adjusting AfterShot Pro to your needs.
Digital asset management of your photos by creating AfterShot Pro catalogs.
Approach
The book takes a tutorial approach.
Who this book is written for
This book is great for photographers who want to start working with AfterShot Pro. It is assumed that you have a digital camera that can save RAW files to make use of the application. Readers are expected to have one or more RAW files available which can be used for practice alongside this book. Experience with other image editing software is a plus, but not mandatory for this book.
Book Details
Paperback: 116 pages
Publisher: Packt Publishing (December 2012)
Language: English
ISBN-10: 1849694664
ISBN-13: 978-1849694667
Download [12.8 MiB]