Our Beautiful, Fragile World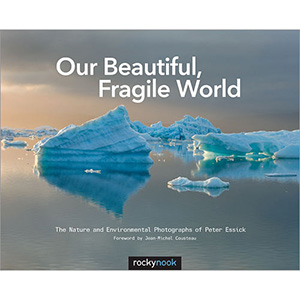 Our Beautiful, Fragile World features a career-spanning look at the images of photojournalist Peter Essick taken while on assignment for National Geographic magazine. In this book, Essick showcases a diverse series of photographs from some of the most beautiful natural areas in the world and documents major contemporary environmental issues, such as climate change and nuclear waste.
Each photograph is accompanied by commentary on the design process of the image, Essick's personal photographic experiences, and informative highlights from the research he completed for each story. Our Beautiful, Fragile World takes the reader on a journey around the globe, from the Oulanka National Park near the Arctic Circle in Finland to the Adelie penguin breeding grounds in Antarctica.
Our Beautiful, Fragile World will interest photographers of all skill levels. It carries an important message about conservation, and the photographs provide a compelling look at our environment that will resonate with people of all ages who care about the state of the natural world.
Foreword by Jean-Michel Cousteau.
About the Author
Recently named by Outdoor Photography magazine as one of the 40 most influential nature photographers, Peter Essick has traveled extensively over the last two decades, photographing around the world. He is a working photojournalist, but his photographs move beyond mere documentation; they reveal the spiritual and emotional aspects of nature and the impact of development on the landscape.
Essick has been a frequent contributor to National Geographic magazine for 25 years, where he has produced 40 feature articles on an array of topics. Some of his favorite and most rewarding stories have been on Inner Japan, the National Wilderness Preservation System, the carbon cycle, global warming, and global freshwater. Recent stories include a June, 2010 cover piece on Greenland and a story on the Ansel Adams Wilderness in the October 2011 issue.
Essick has a bachelor's degree in business from the University of Southern California and a master's degree in photojournalism from the University of Missouri. He is represented by the Lumiere gallery in Atlanta and by Aurora Photos. He lives in Stone Mountain, Georgia with his wife, Jackie and son, Jalen.
Book Details
Hardcover: 124 pages
Publisher: Rocky Nook (November 2013)
Language: English
ISBN-10: 1937538346
ISBN-13: 978-1937538347
Download [81.7 MiB]