Photographically Speaking: A Deeper Look at Creating Stronger Images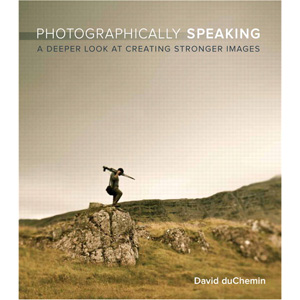 When looking at a photograph, too often a conversation starts–and, unfortunately, ends–with a statement such as, "I like it." The logical next question, "Why?", often goes unasked and unanswered. As photographers, we frequently have difficulty speaking about images because, frankly, we don't know how to think about them. And if we don't know how to think about a photograph and its "visual language"– how an image is constructed, how it works, and why it works–then, when we're behind the camera, are we really making images that best communicate our vision, our original intent? Vision–crucial as it is–is not the ultimate goal of photography; expression is the goal. And to best express ourselves, it is necessary to learn and use the grammar and vocabulary of the visual language.
Photographically Speaking is about learning photography's visual language to better speak to why and how a photograph succeeds, and in turn to consciously use that visual language in the creation of our own photographs, making us stronger photographers who are able to fully express and communicate our vision. By breaking up the visual language into two main components–"elements" make up its vocabulary, and "decisions" are its grammar–David duChemin transforms what has traditionally been esoteric and difficult subject matter into an accessible and practical discussion that photographers can immediately use to improve their craft. Elements are the "words" of the image, what we place within the frame–lines, curves, light, color, contrast. Decisions are the choices we make in assembling those elements to best express and communicate our vision–the use of framing, perspective, point of view, balance, focus, exposure.
All content within the frame has meaning, and duChemin establishes that photographers must consciously and deliberately choose the elements that go within their frame and make the decisions about how that frame is constructed and presented. In the second half of the book, duChemin applies this methodology to his own craft, as he explores the visual language in 20 of his own images, discussing how the intentional choices of elements and decisions that went into their creation contribute to their success.
Book Details
Paperback: 272 pages
Publisher: New Riders Press (October 2011)
Language: English
ISBN-10: 0321750446
ISBN-13: 978-0321750440
Download [28.0 MiB]