Beating the Indexes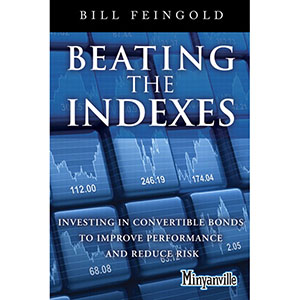 Stop Settling for Average Returns!
If you merely aim to keep up with the indexes, you're settling for mediocrity–or worse. Indexing is actually becoming dangerous, thanks to its bias toward overvalued, overgrown, large cap stocks likely to hit long periods of underperformance. But simply choosing active management isn't the solution: Many investment pros have quietly adopted "quasi-indexing" strategies that protect themselves at your expense.
Here's the good news: You have a much better chance of beating the pros than they want you to think.
In Beating the Indexes, leading trader and Minyanville columnist Bill Feingold shows how to systematically exploit the biases of index investing and continuously make winning investments. Writing for sophisticated individual investors as well as professionals, Feingold introduces more profitable strategies based on convertible bonds and other alternative investments. He systematically exposes growing cracks in the theory of index investing, presenting long-term strategies capable of consistently outperforming index investors.
Tired of minimal returns that disappear with the slightest market volatility? This is the book you've been searching for.
Why investment pros accept mediocrity–and how you can do better
Why individual investors are now well-positioned to beat the indexes and experts
Convertibles: A better solution
Part bond, part stock, all opportunity
Uncovering the consistent attributes of high-profit convertible investments
"Protected stock investing" strategies that really work
Advanced techniques: how professional convertible traders think and operate
Expert-level strategies: advantages, drawbacks, and when to consider them
You can't afford "average" performance any more–and with Bill Feingold's help, you don't have to accept it!
Table of Contents
Part I: Our Flawed Institutions
Chapter 1. Indexing and Its Discontents
Chapter 2. The Individual's Edge
Chapter 3. Delusions and Illusions: Chasing Performance in Our Lost Decade
Chapter 4. A Change is Gonna Come
Part II: Convertibles, a Better Solution
Chapter 5. The Very Basics
Chapter 6. Reminiscences of a Convertible Operator
Chapter 7. A Quick Review and Quiz
Chapter 8. Enough Already…How Do Convertibles Actually Work?
Chapter 9. What to Look for in a Convertible
Chapter 10. Convertibles For…
Chapter 11. Introduction to Advanced Topics
Book Details
Hardcover: 320 pages
Publisher: FT Press (April 2012)
Language: English
ISBN-10: 0132885948
ISBN-13: 978-0132885942
Download [4.4 MiB]