Autodesk Revit Architecture 2014: No Experience Required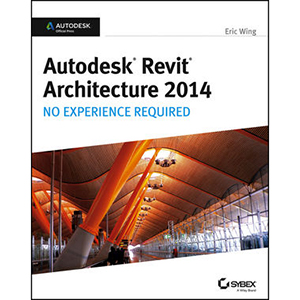 Learn Revit Architecture with an engaging, real-world continuous step-by-step tutorial
This Autodesk Official Press book helps you become proficient with Autodesk's popular building information modeling software using an innovative continuous tutorial. It covers each phase of designing, documenting, and presenting a four-story office building, a real-world project you might expect to encounter on the job. Concise explanations, focused examples, step-by-step instructions, and an engaging hands-on tutorial make this Autodesk Official Press guide the perfect way to learn Revit Architecture.
Expert author Eric Wing, first introduces the interface and Revit conventions and then moves directly into building modeling. You'll learn to place walls, doors, and windows, work with structural grids, beams, and foundations; add text and dimensions, and use dimensions as a design tool. As the building takes shape, you'll discover how to generate construction documentation, create schedules, consider site issues, and use Revit's rendering capabilities.
Shows you how to work on a real-world design from start to finish
Helps you to understand industry best practices and quickly become proficient with the user interface
Explains how to effectively plan and create walls, doors, window, floors, and ceilings
Details ways to create professional stairs and railings
Walks you through using Revit's powerful dimensions, families, worksets, worksharing, and phase management features vEncourages you to show off your design with beautifully lit, fully rendered 3D scenes
Autodesk Revit Architecture: No Experience Required features downloadable tutorial files so you can jump in at any exercise. It's the perfect resource for learning this essential BIM software.
Table of Contents
Chapter 1. The Autodesk Revit World
Chapter 2. Creating a Model
Chapter 3. Creating Views
Chapter 4. Working with the Autodesk Revit Tools
Chapter 5. Dimensioning and Annotating
Chapter 6. Floors
Chapter 7. Roofs
Chapter 8. Structural Items
Chapter 9. Ceilings and Interiors
Chapter 10. Stairs, Ramps, and Railings
Chapter 11. Schedules and Tags
Chapter 12. Detailing
Chapter 13. Creating Specif ic Views and Match Lines
Chapter 14. Creating Sheets and Printing
Chapter 15. Creating Rooms and Area Plans
Chapter 16. Advanced Wall Topics
Chapter 17. Creating Families
Chapter 18. Site and Topography
Chapter 19. Rendering and Presentation
Chapter 20. Impor ting and Coordinating Models
Chapter 21. Phasing and Design Options
Chapter 22. Project Collaboration
Book Details
Paperback: 984 pages
Publisher: Sybex (May 2013)
Language: English
ISBN-10: 1118542746
ISBN-13: 978-1118542743
Download [170.3 MiB]