Eye Tracking the User Experience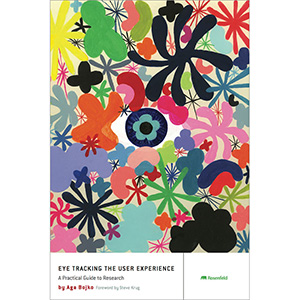 Eye tracking is a widely used research method, but there are many questions and misconceptions about how to effectively apply it. Eye Tracking the User Experience—the first how-to book about eye tracking for UX practitioners—offers step-by-step advice on how to plan, prepare, and conduct eye tracking studies; how to analyze and interpret eye movement data; and how to successfully communicate eye tracking findings.
Table of Contents
Part I: Why Eye Tracking?
Chapter 1. Eye Tracking: What's All the Hoopla?
Chapter 2. To Track or Not to Track
Part II: Study Preparation
Chapter 3. Eye Trackers and Other Necessary Resources
Chapter 4. Time to Roll Up the Sleeves
Chapter 5. Combining Eye Tracking with Other Methods
Chapter 6. Verbal Protocols and Eye Tracking
Chapter 7. Eye Tracking Measures
Chapter 8. No Participants, No Study
Part III: Data Collection
Chapter 9. It's Tracking Time!
Part IV: Analysis and Reporting
Chapter 10. Data Extraction and Preparation
Chapter 11. Eye Tracking Data Visualizations
Chapter 12. Qualitative Data Analysis
Chapter 13. Quantitative Data Analysis
Book Details
Paperback: 320 pages
Publisher: Rosenfeld Media (December 2013)
Language: English
ISBN-10: 1933820101
ISBN-13: 978-1933820101
Download [51.8 MiB]