Learning Adobe Muse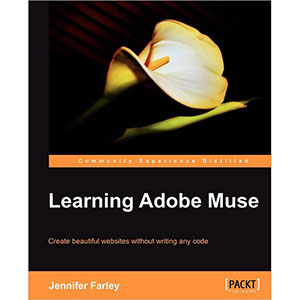 Adobe Muse is an exciting new tool from the world's foremost design software company which allows users to create beautiful and fully functioning websites without writing any code. It provides graphic designers the power to use their print design skills over the Web.
This book will help web designers as well as graphic designers to master Adobe Muse quickly. It will provide step-by-step instructions that guide you through building a website with Adobe Muse.
"Learning Adobe Muse" will teach you how to plan, design and publish websites using Adobe Muse. It starts by covering the tools and interface of the program and moves on to the concepts you'll need to understand for laying out your web pages. You'll learn how to format text using reusable styles, add images, create a clean navigation system, and add interactive elements such as panels and slideshows to your pages and all this without writing a single line of code!
By the end of the book you will have created a smartlydesigned, fully-functioning website.
What will you learn from this book
Plan a website from scratch.
Create a functioning website prototype
Use master pages to apply a common look and feel across the website
Apply effects such as drop shadows, bevel, and glow
Add interactive elements to your site including an image slideshow
Design tips and advice for new designers and graphic designers moving from print to the web
Preview and test your website
Publish your site with Business Catalyst or a third party hosting provider
Approach
This is an easy to read, practical, step by step guide covering the typical workflow for designing and building a website using Adobe Muse. As you work though the examples in the book you will build a fully-functioning website. The book includes many screenshots and graphics showing you exactly how to use the various features in Adobe Muse.
Who this book is written for
This book is written for beginner web designers and also graphic designers who are interested in using their print design skills on the Web. It will teach you how to quickly build websites without the need to learn HTML or CSS.
Book Details
Paperback: 268 pages
Publisher: Packt Publishing (September 2012)
Language: English
ISBN-10: 1849693145
ISBN-13: 978-1849693141
Download [21.4 MiB]