AutoCAD 2014 Essentials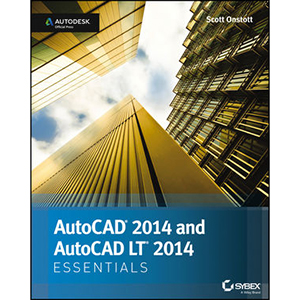 Learn crucial AutoCAD tools and techniques with this Autodesk Official Press Book
Quickly become productive using AutoCAD 2014 and AutoCAD LT 2014 with this full color Autodesk Official Press guide. This unique learning resource features concise, straightforward explanations and real-world, hands-on exercises and tutorials. Following a quick discussion of concepts and goals, each chapter moves on to an approachable hands-on exercise designed to reinforce real-world tactics and techniques. Compelling, full-color screenshots illustrate tutorial steps, and chapters conclude with related and more open-ended projects to further reinforce the chapter's lessons.
Starting and ending files for the exercises are also available for download, so you can compare your results with those of professionals. You'll follow a workflow-based approach that mirrors the development of projects in the real world, learning 2D drawing skills, editing entities, working with splines and polylines, using layers and objects, creating and editing text, dimensioning, modeling in 3D, and much more.
Hands-on exercises and their downloadable tutorial files are based on the real-world task of drawing a house
Covers crucial features and techniques, including 2D drawing working with layers, organizing objects with groups and blocks, using hatch patterns and gradients, using constraints and layouts, importing data, 3D modeling, and
Includes content to help prepare you for Autodesk's AutoCAD certification program
AutoCAD 2014 and AutoCAD LT 2014 Essentials is the Autodesk Official Press guide that helps you quickly and confidently learn the newest version of AutoCAD and AutoCAD LT.
Table of Contents
Chapter 1. Get ting Started
Chapter 2. Basic Drawing Skills
Chapter 3. Using Drawing Aids
Chapter 4. Editing Entities
Chapter 5. Shaping Curves
Chapter 6. Controlling Object Visibility and Appearance
Chapter 7. Organizing Objects
Chapter 8. Hatching and Gradients
Chapter 9. Working with Blocks and Xrefs
Chapter 10. Creating and Editing Text
Chapter 11. Dimensioning
Chapter 12. Keeping In Control with Constraints
Chapter 13. Working with Layouts and Annotative Objects
Chapter 14. Printing and Plotting
Chapter 15. Working with Data
Chapter 16. Navigating 3D Models
Chapter 17. Modeling in 3D
Chapter 18. Presenting and Documenting 3D Design
Book Details
Paperback: 432 pages
Publisher: Sybex (June 2013)
Language: English
ISBN-10: 1118575091
ISBN-13: 978-1118575093
Download [88.8 MiB]