AutoCAD Civil 3D 2014 Essentials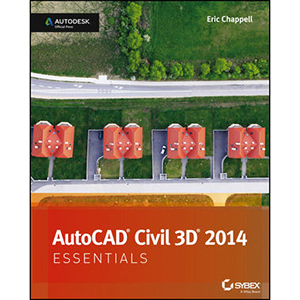 Quickly learn essential Civil 3D tools and techniques
Get a thorough introduction to AutoCAD Civil 3D, the industry-leading engineering software used to design roads, highways, subdivisions, drainage and sewer systems, and more. This Autodesk Official Press book is a unique learning resource that features concise, straightforward explanations and real-world, hands-on exercises and tutorials. With compelling full-color screenshots and approachable exercises that demonstrate core features and functions, the book helps you gain understanding and confidence as you master this premiere civil engineering software.
Introduces the software's interface and foundational concepts
Follows a workflow-based approach that mirrors how projects progress in the real world, and guides you through importing and working with field survey data, managing point data with groups and styles, and modeling terrain using surfaces
Covers creating and editing alignments and profiles, designing 3D road models, building and analyzing terrain models, designing and analyzing pipe networks, and much more
Shows how to estimate quantities and create construction documentation
Provides information to help you prepare for the Civil 3D certification exam
AutoCAD Civil 3D Essentials is the perfect, real-world introduction to the powerful civil engineering software.
Table of Contents
Chapter 1. Navigating the AutoCAD Civil 3D User Interface
Chapter 2. Leveraging a Dynamic Environment
Chapter 3. Establishing Existing Conditions Using Survey Data
Chapter 4. Modeling the Existing Terrain Using Sur faces
Chapter 5. Designing in 2D Using Alignments
Chapter 6. Displaying and Annotating Alignments
Chapter 7. Designing Vertically Using Profiles
Chapter 8. Displaying and Annotating Profiles
Chapter 9. Designing in 3D Using Corridors
Chapter 10. Creating Cross Sections of the Design
Chapter 11. Displaying and Annotating Sections
Chapter 12. Designing and Analyzing Boundaries Using Parcels
Chapter 13. Displaying and Annotating Parcels
Chapter 14. Designing Gravity Pipe Networks
Chapter 15. Designing Pressure Pipe Networks
Chapter 16. Displaying and Annotating Pipe Networks
Chapter 17. Designing New Terrain
Chapter 18. Analyzing, Displaying, and Annotating Surfaces
Chapter 19. From Design to Construction
Book Details
Paperback: 416 pages
Publisher: Sybex (June 2013)
Language: English
ISBN-10: 1118575024
ISBN-13: 978-1118575024
Download [42.0 MiB]