Alcatel-Lucent Network Routing Specialist II (NRS II) Self-Study Guide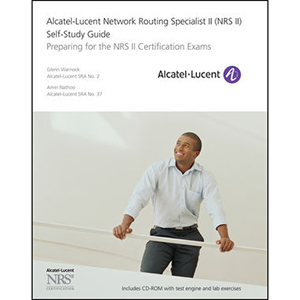 The definitive resource for the NRS II exams—three complete courses in a book
Alcatel-Lucent is a world leader in designing and developing scalable systems for service providers. If you are a network designer or operator who uses Alcatel-Lucent's 7750 family of service routers, prepare for certification as an A-L network routing specialist with this complete self-study course. You'll get thorough preparation for the NRS II exams while you learn to build state-of-the-art, scalable IP/MPLS-based service networks.
The book provides you with an in-depth understanding of the protocols and technologies involved in building an IP/MPLS network while teaching you how to avoid pitfalls and employ the most successful techniques available. Topics covered include interior routing protocols, multiprotocol label switching (MPLS), Layer2/Layer3 services and IPv6. The included CD features practice exam questions, sample lab exercises, and more.
Prepares network professionals for Alcatel-Lucent Service Routing Certification (SRC) exams 4A0-101, 4A0-103, 4A0-104 and NRSII4A0
Covers content from Alcatel-Lucent's SRC courses on Interior Routing Protocols, Multiprotocol Label Switching, and Services Architecture
Specific topics include MPLS (RSVP-TE and LDP), services architecture, Layer2/Layer 3 services (VPWS/VPLS/VPRN/IES/service inter-working/IPv6 tunneling), and OSPF and IS-IS for traffic engineering and IPv6.
CD includes practice exam questions, lab exercises and solutions.
This Self-Study Guide is the authoritative resource for network professionals preparing for the Alcatel-Lucent NRS II certification exams.
From the Back Cover
This book is your official self-study guide for the Alcatel-Lucent Network Routing Specialist II (NRS II) Certification. The certification is designed to provide a solid understanding of IP/MPLS networks and their Layer 2 and Layer 3 service applications in today's advanced networks. The book is loaded with many practical configuration and troubleshooting exercises and is an invaluable reference source to the working network engineer. Upon completing the book and obtaining your certification, you will have a valuable foundation of skills, knowledge, and best practices needed for operating an IP/MPLS services network.
After reading this book, you will be able to:
Design an address plan and configure interfaces for IPv4 and IPv6
Configure and verify routing for IPv6
Describe the operation of LDP and configure an LDP network
Explain how OSPF and IS-IS are enhanced to support traffic engineering
Configure and verify RSVP-TE LSPs for traffic engineering and high availability
Describe the different services that can be implemented in an IP/MPLS network
Configure and verify Layer 2 and Layer 3 VPN services
Configure and verify IPv6 tunneling over an IP/MPLS network
"I strongly recommend this book to any individual or organization needing to build their IP Service Routing knowledge and hands-on implementation skills and know-how. This comprehensive self-study guide not only leads to a valuable certification at the NRS II level, it covers a wide range of critical IP subject areas in a thorough and practical manner to help you better support your mission, business, and customers."
—Gary Horn, Vice President, Technology Services and CTO Advocate Health Care
Book Details
Paperback: 1488 pages
Publisher: Wiley (October 2011)
Language: English
ISBN-10: 0470947721
ISBN-13: 978-0470947722
Download [16.5 MiB]